Global Positioning Systems (GPS)
GPS Guidance System meets needs of agricultural market.
Press Release Summary: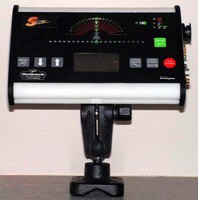 Designed for non-precision spraying, spreading, and broad-acre tillage and seeding, Outback S-Lite(TM) includes Straight Guidance, Contour Guidance, and Return to Point. It can eliminate need for foam marker and is expandable to work with Outback AutoMate(TM), which monitors and controls individual sprayer sections. It is SBAS enabled and utilizes Crescent® GPS receiver technology that provides accurate and robust GPS reception.
---
Original Press Release:

Hemisphere GPS Introduces Outback S-Lite Entry Level Guidance System



Decatur, IL - August 28, 2007- (TSX: HEM) Today, Hemisphere GPS introduced Outback S-Lite(TM) from the Farm Progress Show in Decatur, Illinois. As the entry-level product of its popular Outback brand, S-Lite is a low-cost, portable, entry-level GPS guidance solution for non-precision spraying, spreading, and broad-acre tillage and seeding.

Offering many of the same features as its popular Outback S(TM) series products, Outback S-Lite includes Straight Guidance, Contour Guidance, and Return to Point. It can eliminate the need for a foam marker and is expandable to work with Outback AutoMate(TM), which monitors and controls individual sprayer sections to minimize overlaps and skips. It is SBAS (WAAS, EGNOS, etc.) enabled and includes Hemisphere GPS's e-Dif® solution so it does not require any additional costly GPS subscription services. At the heart of Outback S-Lite is Hemisphere GPS' Crescent® GPS receiver technology, providing accurate and robust GPS reception.

"As the costs associated with the agricultural industry continue to rise, the marketplace has been demanding ways to offset those increases, "said Steven Koles, President and CEO of Hemisphere GPS. "Utilizing GPS guidance tools like Outback S-Lite generates valuable cost saving, and offers a very quick return on investment, for the large segment of farmers globally whom require an entry level GPS offering for their precision agriculture needs." Hemisphere GPS will begin shipping Outback S-Lite in November 2007. With a manufacturer suggested retail price of only $995, it comes with a 1-year standard manufacturer's warranty. It will be available through Outback Guidance Centers, other distributors in North America, and through select Hemisphere GPS distributors worldwide.

Please visit Hemisphere GPS at the Varied Industries Tent at the Farm Progress Show, today through August 30th in Decatur, Illinois. The latest Outback Guidance products will be on display, and information will be available on products that are soon to be released.

About Hemisphere GPS

Hemisphere GPS (formerly CSI Wireless Inc.), designs and manufactures innovative, cost-effective GPS products for positioning, guidance, and machine control applications in agriculture, marine and other markets. The Company owns leading brand names, numerous patents, and other intellectual property. The Company is headquartered in Calgary, Alberta, with major product development, sales, and marketing facilities in Arizona, Kansas, and Texas. For more information about Hemisphere GPS go to www.hemispheregps.com.

For more information, please contact:
Jeff Farrar
Ground Ag Marketing Manager
Hemisphere GPS
E-mail: JFarrar@hemispheregps.com
(785)742-5131

More from Materials