GPS Antenna comes in compact package.
Press Release Summary: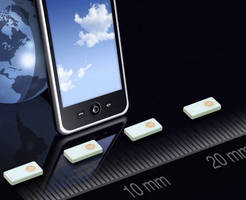 Featuring external dimensions of 3.2 x 1.6 x 0.5 mm, RadiEdge AH316M157501 fosters development of compact GPS-ready mobile phones, smartphones, and portable navigation devices while also promoting flexible antenna placement. Center frequency for this EIA 1206-size antenna is 1,575 MHz.
---
Original Press Release:
Taiyo Yuden Introduces the Industry's Smallest GPS Antenna
Schaumburg, IL - Taiyo Yuden's newest RadiEdge GPS antenna is the smallest in the industry. Measuring just 3.2 x 1.6 x 0.5mm, the AH316M157501 is approximately 87% smaller in volume and 69% shorter in height than the company's previous AF816M157502 (8.0 x 1.6 x 1.6mm) model. The lower profile EIA 1206 size antenna is designed to promote the development of smaller and slimmer GPS-ready mobile phones, smartphones and portable navigation devices (PNDs), as well as to improve the flexibility of antenna placement. The popularity of and demand for GPS functionality in mobile phones and smartphones is growing rapidly. In the case of car navigation systems, features and dimensions have been reduced to develop removable or mobile PNDs. These slimmer mobile GPS devices require equally small and slim antennas. However, because the position of the fingers and hand can interfere with radio waves and weaken reception, optimal placement of the antenna is also essential. While Taiyo Yuden's previous compact chip antenna could only be mounted to the corner of a substrate for GPS-ready devices, the smaller AH316M157501 allows for flexibility in antenna placement. The AH316M157501 is currently being produced in volume quantities. The sample price is $3.00/unit.
Applications   Ordering Code       External Dimensions (mm)   Center Frequency (MHz)
GPS        AF816M157502-T       8.0x1.6x1.6          1575
         AF116M157502-T       11.0x1.6x1.6         1575
         AH316M157501-T (new!)   3.2x1.6x0.5          1575


W-LAN (2.4GHz)
Bluetooth WiMAX
(2.5GHz) ZigBee  AF216M245001-T       2.5x1.6x1.6          2450
         AH316M245001-T       3.2x1.6x0.5          2450
         AH083F245001-T       8.0x3.0x1.0          2450
         AH104F2450S1-T       10.0x4.0x1.0         2450
         AH104F2650S1-T       10.0x4.0x1.0         2460
         AH122F245001-T       12.0x2.0x0.95         2450


W-LAN
(2.4GHz/5GHz)   AH104N2450D1-T       10.0x4.0x1.0         2450/5400


UWB & WiMAX
(3.5GHz)     AH086M555003-T       8.0x6.0x1.0          5550
For detailed specifications on the AH316M157501, click here to visit the Chip Antenna section of our website. To learn more about Taiyo Yuden's Chip-Antenna Solutions, click here. About TAIYO YUDEN: Now in its 60th year, Tokyo-based TAIYO YUDEN CO., LTD. is a worldwide manufacturer of surface-mount and leaded passive components, Bluetooth modules and CCFT inverters. With approximately 50% of the worldwide market in high-frequency multilayer chip inductors used in cell phones, the company reports annual sales of US$2.06B. Worldwide, TAIYO YUDEN employs more than twenty thousand people. The company's North American affiliate, TAIYO YUDEN (U.S.A.), INC., operates sales and engineering offices in Chicago IL, Boston MA, Raleigh NC, Irving TX, Denver CO and in California at San Jose and San Diego. For more information, visit www.t-yuden.com, or contact TAIYO YUDEN (U.S.A.) INC., 1930 Thoreau Drive, Suite 190, Schaumburg, IL 60173, Phone: (847) 925-0888, E-mail: sales@t-yuden.com.
More from Architectural & Civil Engineering Products