GPON ONT delivers triple-play services in multi-room facilities.
Press Release Summary: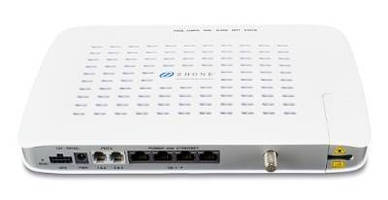 Suited for Fiber-To-The-Desk (FTTD) applications, 2625p and 2645p deliver triple-play services in multi-room environments – office buildings, hotels, hospitals – where traditional cable television service must also be delivered over fiber infrastructure. These indoor, fiber-only ONTs support PoE, analog voice, and coaxial video outputs. While 2625p ONT has 4 PoE ports, one video port, and 2 analog voice ports, 2645p adds 2 voice ports for larger FTTD applications.
---
Original Press Release:

Zhone Technologies Introduces First Indoor GPON ONT Designed To Deliver Triple-Play Services In Multi-Room Facilities



OAKLAND, Calif. – Today, Zhone Technologies, Inc. (NASDAQ: ZHNE), announced it has introduced the first fiber-only ONTs with integrated support for RF video and Power over Ethernet (PoE).  The new 2625p and 2645p GPON ONTs are designed to deliver advanced triple-play services in multi-room environments such as hotels, hospitals, assisted living facilities and university dorms where traditional cable television service must also be delivered over the fiber infrastructure.  These indoor models in Zhone's zNID 2600 product line provide a simple, fully-integrated solution, unmatched flexibility in deployment, reduced hardware costs and energy efficiency.



"In today's network environment, Passive Optical LAN technology is prominent and organizations need ONTs that work directly with existing technology and hardware, like phones, computers and televisions. The 2600 Series ONT is ideal for Fiber-To-The-Desk (FTTD) applications in office buildings, universities and hotels, where several attached devices and capabilities can be powered directly from the ONT's ports," said Eric Presworsky, Chief Technology Officer, Zhone Technologies.



PoE, analog voice, and coaxial video outputs are supported on the 2600 Series ONT hardware.  A standard cable-ready television can connect directly to the ONT's video port, supporting broadcast TV applications without requiring a set-top box.  The 2625p ONT has four PoE ports, one video port and two analog voice ports. This multi-port configuration supports PCs, VoiP, camera, WiFi, telephone, fax and video services all at once, using only the one device. The 2645p has the same capabilities, with two additional voice ports for larger FTTD applications.



To learn more about the 2625p and 2645p visit www.zhone.com/products/ZNID-GPON-26xx/.



About Zhone Technologies

Zhone Technologies, Inc. (NASDAQ: ZHNE) is a global leader in the fiber access market, serving more than 750 of the world's most innovative network operators. The IP Zhone is the only solution that enables service providers to build the network of the future today, supporting end-to-end Voice, Data, Entertainment, Social Media, Business, Mobile Backhaul and Mobility service. Zhone is committed to building the fastest and highest quality All IP Multi-Service solution for its customers. Zhone is headquartered in California and its products are manufactured in the USA in a facility that is emission, wastewater and CFC free.



Zhone, the Zhone logo, and all Zhone product names are trademarks of Zhone Technologies, Inc. Other brand and product names are trademarks of their respective holders. Specifications, products, and/or product names are all subject to change without notice.



CONTACT:

Carla Vallone

Portavoce PR for Zhone Public Relations

Tel: +1 760.814.8194

E: carla.vallone@portavocepr.com



Zhone Investor Relations

Tel: +1 510.777.7013

Fax: +1 510.777.7001

E: investor-relations@zhone.com

More from Communication Systems & Equipment