GPD Global's PCD4 Dispense Pump Now is Available in Europe and Asia/Pacific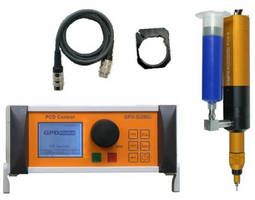 GRAND JUNCTION, CO - GPD Global, a manufacturer of precision fluid dispensing systems for high-volume 24/7, low-volume/high-mix and R&D production, announces the global release of its PCD4 Dispense Pump after its successful release and testing in the North American market.

The PCD4 dispense pump was introduced to the North American market in June 2010. PCD4 also is now available in the Asia/Pacific region and Europe. GPD Global is expanding to support the worldwide market for individual pump and controller sales.

GPD's PCD Dispensing provides next-generation volumetric dispensing and is compatible with materials used in electronics assembly such as LED encapsulants, underfills, oils, silicones and UV curable fluids, as well as many other low-viscosity liquids outside of the electronics industry. PCD Technology is designed for GPD Global platforms and may be used with other robots or tabletop operations with an easy-to-use tabletop controller.

Viscous fluids are delivered to the substrate via luer nozzles and performance excels when using GPD Global 'S' Taper tips. The metering technique is not affected by variations in temperature or reservoir pressure, thereby improving day-to-day and start-to-finish process results. GPD's enhanced flow rate luer dispense tips offer higher flow rates than standard luer nozzles with a much lower pressure build-up.

For more information about PCD pump technology, visit www.gpd-global.com.

About GPD Global
GPD Global is an equipment manufacturer of high-quality, precision, automated fluid dispensing and component-prep systems. The company is an international, state-of-the-art equipment supplier for the PCB assembly and semiconductor industries. It designs and manufactures a variety of automatic fluid dispense systems. GPD Global also manufactures an SMT Cover Tape Peel Tester and Component Prep equipment for Thru-Hole applications. The company is committed to offering premium service to its customers and has sales and customer support affiliates located throughout the world, including North America, South America, Europe, the Middle East and Asia-Pacific. For more information, visit www.gpd-global.com.

More from Non-Industrial Products