Gowanda is First in Industry to Offer 0603/0805 QPL RF Chip Inductors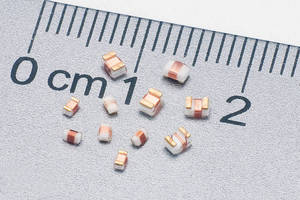 ML0603 & ML0805 Series Address Market Need for Military Qualification to MIL-PRF-83446

Gowanda, NY (USA) - Gowanda Electronics, a US-based designer and manufacturer of precision electronic components for power and radio frequency applications, announced that the company recently achieved qualification to the military's MIL-PRF-83446 (/36A and /37A) for its ML0603 and ML0805 series of RF surface mount wirewound ceramic core chip inductors. These are the first series in the industry to address the market need for Qualified Product List (QPL) inductors which meet this particular Department of Defense specification.

Gowanda's ML0603 Series is QPL approved to MIL-PRF-83446/36A and provides inductance from 1.8 to 270 nH, Q Min from 16 to 40, SRF MHz Min from 600 to 6000, DCR Ohms Max from .07 to 1.78 and Current Rating DC mA from 195 to 1000. The ML0805 Series is qualified to MIL-PRF-83446/37A and provides inductance from 2.2 to 2200 nH, Q Min from 15 to 65, SRF MHz Min from 40 to 6000, DCR Ohms Max from .08 to 5.0 and Current Rating DC mA from 140 to 1000. Both series are wirewound coils with ceramic cores and gold terminations. Operating temperature for each series is -55°C to +125°C. The inductors are available in tape and reel and are suitable for reflow soldering. (See links to technical information below)

Gowanda Electronics' proprietary epoxy capping technique provides uniform dimensional stability for pick-and-place assembly and assures environmental and mechanical protection of the coil.

The ML0603 and ML0805 Series are designed for RF applications in military, aerospace and defense communities. This includes use in communication, guidance and security applications, as well as in radar, test & evaluation and special mission applications. These series can also be used in other high frequency applications around the world where the rigorous testing associated with these QPL-approved inductors makes them desirable for high reliability (hi rel) designs.

Technical information about the ML0603 and ML0805 Series is available at the company's website:

Data Sheets:
ML0603 - www.gowanda.com/files/ML0603.pdf
ML0805 - www.gowanda.com/files/ML0805.pdf

Product Information:
ML0603 - http://www.gowanda.com/products_qpl/series.asp?o=4&a=7&c=11&sc=77&s=ML0603
ML0805 - http://www.gowanda.com/products_qpl/series.asp?o=4&a=7&c=11&sc=77&s=ML0805


QPL RF Surface Mount Inductor Product Line:
Series Summary - www.gowanda.com/products_qpl/rf_surface_mount.asp

Gowanda introduced these two QPL Series in response to market demand for a QPL-approved inductor supplier for smaller size, high frequency applications. This action aligns with the company's previous announcement regarding its commitment to the development and introduction of QPL products which address the needs of military and aerospace markets. Several QPL products have been introduced since that announcement and more are anticipated. (See helpful website links below.)

Gowanda Electronics can offer variations to these designs in order to meet the specific requirements of a particular application. The pursuit of QPL approval for such customer-specific designs depends on volume and other factors. Additionally Gowanda can upscreen a standard design from a commercial product line using the company's in-house environmental testing lab to fulfill customer reliability requirements. Gowanda will also consider inquiries from companies looking for partnering opportunities to address specific QPL needs.

For design details, pricing, delivery, application-specific variations, upscreen and/or partnering opportunities please contact Gowanda Electronics at USA (716) 532-2234 or sales@gowanda.com .

Helpful website links:

Gowanda's QPL offerings (current/intended):www.gowanda.com/technical_library/qpl_progress.asp

Gowanda's in-house environmental test capabilities: http://www.gowanda.com/capabilities/environmental_lab.asp

Gowanda's news releases about recently introduced products: http://www.gowanda.com/company/news.asp

QPL and Defense Logistics Agency (formerly DSCC) info: www.landandmaritime.dla.mil/

MIL-PRF-83446 details:
Slash 36A: www.landandmaritime.dla.mil/Downloads/MilSpec/Docs/MIL-PRF-83446/prf83446ss36.pdf
Slash 37A: www.landandmaritime.dla.mil/Downloads/MilSpec/Docs/MIL-PRF-83446/prf83446ss37.pdf

Gowanda Electronics (www.gowanda.com) is a privately held company that designs, manufactures and supplies precision electronic components for RF and power applications. Components include standard off-the-shelf and custom-designed inductors, chokes, conicals, toroids, and other surface mount devices that are used in a wide variety of electronic applications. Gowanda's products are used primarily by OEM companies and other entities interested in high performance electronic component solutions for the equipment and devices they manufacture. Applications include use in test & measurement equipment, medical & diagnostic equipment/devices, industrial automation & control equipment, and instrumentation. Such products are used in a broad range of industries, including process & assembly industries, aviation/aerospace, defense, telecommunications, health care, data processing, security and education. Gowanda's customers include Fortune 500 companies and other significant players in these global markets. The company is certified to AS9100, ISO9001 and ISO13485 quality management standards, is ITAR registered, and offers RoHS compliant products as well as lead-containing components for QPL military/defense and other demanding requirements.

More from Packaging Products & Equipment