GOST Wins Fourth NMEA Product of Excellence Award in Remote Vessel Monitoring Category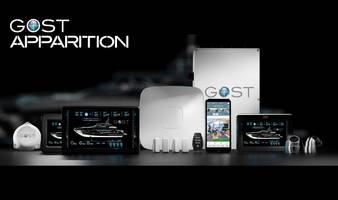 Fort Lauderdale, Fla. – GOST® (Global Ocean Security Technologies), a world leader in marine security, tracking, monitoring and video surveillance systems, announced today the GOST Apparition SM GPS XVR has been awarded the Product of Excellence Award by the 2020 National Marine Electronics Association (NMEA) Conference and Expo in the category of Remote Vessel Monitoring Systems. This is the fourth time in a row that GOST has won in this category, sweeping every year since the category began. The awards were presented virtually on Saturday, September 26, 2020.
The Product of Excellence Awards are voted on by professional marine electronics installing NMEA dealers, qualified NMEA technicians and fellow marine electronics manufacturers.
The Apparition SM GPS XVR all-in-one security, tracking, monitoring and video surveillance system is GOST's signature top-of-the-line product. It is designed to protect the user's vessel whether aboard or afar, provide complete situational awareness, and send alerts of all events from the boat. The next generation all-in-one video recording platform can accommodate up to eight 1080P HD or analog cameras over coaxial and/or ONVIF protocol IP cameras and can save up to three months of footage with a four-terabyte hard drive.
"We are so excited to be recognized for the fourth year in a row in this category," said Jay Keenan, president and CEO, GOST. "Our team has been working around the clock pushing the envelope to create the best vessel monitoring, tracking and surveillance systems available. We are grateful to the members of the NMEA for their support."
For more information on GOST and its full line of security products, contact [email protected] or visit www.gost.com.
About GOST:
GOST® - Global Ocean Security Technologies - offers a full line of state-of-the-art wireless security, monitoring, satellite tracking, and surveillance, acoustic deterrent and cloaking systems for any size vessel. GOST systems are designed to protect against theft, fire, smoke, high water, low voltage, loss of shore power and intrusion and notify boat owners and crew immediately when an event occurs on board. As the global leader in marine security technology, our personalized service and innovative technology provides boat owners with complete peace of mind from anywhere in the world. GOST is Always Watching – Never Seen®
Andrew Golden
Rushton Gregory Communications
617-413-6521
[email protected]