GOST NT-Evolution 2.0 Defends Vessel from Electronics Theft for The Third Time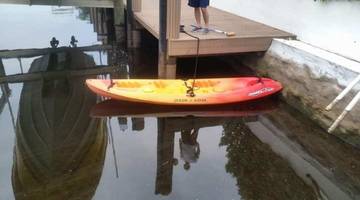 Fort Lauderdale, Fla. – GOST® (Global Ocean Security Technologies), a world leader in marine security, tracking, monitoring and video surveillance systems, announced today that its GOST NT-Evolution 2.0 security system was instrumental in thwarting an attempted electronics theft in Lighthouse Point, Florida. This is the third attempted electronics theft on this specific vessel. Seven other boats in the same neighborhood had thousands of dollars in stolen equipment, but the GOST security and tracking system on this boat stopped the thieves.

Just before 6:00 a.m. on November 16th, the GOST NT-Evolution 2.0's sensors installed on the 39-foot Invincible tripped, triggering the system's siren and strobe; alerting neighbors of the attempted intrusion. In addition, the owner of the boat was notified via automated call, text and email. Security cameras on the dock captured the thieves at work and neighbors eventually found multi-function displays (MFDs) in the bushes that the thieves had ditched when the alarm went off.

"My boat is docked behind a friend's house in Lighthouse Point, after being moved from a marina," said, David Yap, boat owner. "My friend said he had heard the alarm and ran to look but didn't see anything. We never thought the thief was hiding under the dock in a kayak, leading us to believe it was a false alarm. The perpetrator got away on foot, scared off by the alarm. An hour later we found out that seven other boats had been burglarized and the owners found their MFDs tossed in the bushes. This is the third time that our GOST system has saved us and we wholeheartedly agree that the system was money well spent!"

"It's unfortunate that these events are becoming more and more common," said Brian Kane, Chief Technology Officer, GOST. "We see marinas constantly targeted, but to have a vessel boarded and robbed behind a house, with the owners so close by, is less common. Even more amazing that this same scenario has played out three times on the same vessel in several different locations. It goes to show that it pays to have a security system, no matter where you are or what kind of boat you have."

For more information on GOST or its full line of security products, contact marketing@gost.com or visit www.gost.com.
About GOST:
GOST® - Global Ocean Security Technologies - offers a full line of state-of-the-art wireless security, monitoring, satellite tracking, and surveillance, acoustic deterrent and cloaking systems for any size vessel. GOST systems are designed to protect against theft, fire, smoke, high water, low voltage, loss of shore power and intrusion and notify boat owners and crew immediately when an event occurs on board. As the global leader in marine security technology, our personalized service and innovative technology provides boat owners with complete peace of mind from anywhere in the world. GOST is Always Watching – Never Seen®
Contact:
Andrew Golden
Rushton Gregory Communications
617-413-6521
agolden@rushtongregory.com
More from Architectural & Civil Engineering Products