Goodfellow's C-Solder Alloy offers melting point of 232˚C.
Press Release Summary: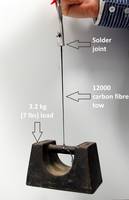 Goodfellow's C-Solder Alloy is used for joining carbon materials such as carbon or carbon nanotube fibers in carbon-carbon arrangements and aluminum to aluminum. This lead-free unit offers density of 7.4 g/cm³ and is electrically and thermally conductive. This flux-free product is not flammable.
---
Original Press Release:
Innovative C-Solder Enables Joining of Carbon Materials
Goodfellow is pleased to announce the availability of C-Solder, the trade name for a group of new tin-based, flux-free soldering alloy that enables the joining of carbon materials. The resulting bond is both mechanically strong and electrically conductive.
With C-Solder you can join…
Carbon materials including carbon fibers or carbon nanotube fibers in carbon-carbon arrangements
Carbon to metals (e.g., copper aluminum, titanium, stainless steel), ceramics and glass materials
Aluminum to aluminum without using flux
Key features of C-Solder
Melting point: 232 ˚C (solidus temperature)
Density: Approximately 7.4 g/cm³
Excellent flow
Good wetting of surfaces to be joined
Electrically and thermally conductive
Not affected by cleaning solvents
Does not leave a residue
Not flammable
Flux-free and lead-free
For more information about this exciting new product, contact a Goodfellow technical expert at 1-800-821-2870, email info@goodfellowusa.com, or click here: http://www.goodfellowusa.com/news-article/c-solder/
About Goodfellow
For 50 years, Goodfellow has been a leading supplier of metals, polymers, ceramics and other materials to meet the needs of science and industry worldwide. The company specializes in supplying small quantities (a few grams to a few kilos) of metals and materials for research, prototype development and specialized manufacturing applications. Standard products can be found online at the comprehensive Goodfellow Catalog: http://www.goodfellowusa.com/catalog/GFCatalog.php?Language=A. Custom products and materials in larger quantities are available upon request at info@goodfellowusa.com.
Related