Golden Harvest Automatic Level Control Gates Accurately Maintain Constant Level Control in Newly Constructed Indianapolis, Indiana UV Upgrade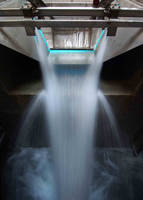 Burlington, WA - Golden Harvest, Inc. (GHI), a leading manufacturer of fabricated stainless steel and aluminum water control gates, has just finished work on two high profile civil projects in the United States, providing relief for two major cities facing urgent water control issues: New Orleans, LA and Indianapolis, IN.

"Most of our customers and clients consist of cities/municipalities, federal agencies, water purveyors, and irrigation districts. The Engineer typically contacts us with a design concern, and we design a gate that will provide a solution for them," said Tyson Boston, a Sales Manager at Golden Harvest.

In New Orleans, GHI teamed up with the Army Corps of Engineers and Kiewit Construction to provide five 16' by 16' hydraulically operated lift gates for the West Closure Complex Pump Station-one of the largest pump stations in the world. These gates will protect the city from the impact of future hurricanes and aid in the ongoing recovery from Hurricane Katrina. Though the pump station project continues, Golden Harvest's gates are fully installed and are already helping protect the coastal city from further water damage.

In Indianapolis, GHI supplied seven GH-9000 Level Control Gates, installed in parallel UV channels at the Belmont Wastewater Treatment Plant, which is one of the biggest UV / level control gate projects in the world.

The Level Control Gate technology provides accurate UV level control and may also be applied for clarifier odor control and CSO applications in water and wastewater treatment. The Series 9000 gate is self-adjusting; it does not require manual adjustment or an outside power source for electric actuation. Instead, the gate utilizes force-balance control to automatically maintain a constant upstream water level at any given discharge, while minimizing head loss, and has 21 standard sizes to fit most flow requirements.

"We are one of the only companies that offer a gate like this; without a requirement for electricity," Boston said. "Most gate systems require a power source and control loop, while ours doesn't. This saves on time and infrastructure costs for the project."

These two recent, successful installations are examples of the many projects GHI has completed. They demonstrate why the company has the reputation as an industry leader for offering engineered solutions to solve complex water control problems with innovative products and solid creative engineering talent.

Golden Harvest staff has more than 200 years of design and engineering expertise, along with a network of equipment representatives and factory direct regional sales managers, specializing in customer service and quick turnaround, making Golden Harvest's services second to none.

For more information about Golden Harvest or to contact them for your next project, please visit their website at www.goldenharvestinc.com or call their headquarters at 360-757-4334.

More from Architectural & Civil Engineering Products