Gold Sputtered Polycarbonate Filters feature smooth focal plane.
Press Release Summary: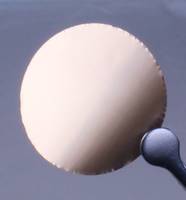 Suitable for environmental monitoring, capturing and visualizing tools, Gold Sputtered Polycarbonate Filters are available in 0.4 and 0.8 micron pore sizes and 13, 25 and 47 mm diameter discs. Made from heated gold wire, filters can collect tiny objects under narrow beam of focused electrons.
---
Original Press Release:
Putting Gold on a Filter; Sterlitech Offers a Shiny Way to See the Really Tiny Things
Sterlitech Corporation is proud to announce the launch of gold-sputtered polycarbonate membrane filters. "Why gold? What is sputtered?" you may ask. Well, some particles are just too small to see with an ordinary light microscope, for these things we need get down to details not seen by traditional microscopy. Scanning Electron Microscopy (SEM) is a powerful tool that uses a focused beam of electrons to resolve some of the smallest objects. But in order to see anything at this level, the sample must be prepared correctly. Gold is very conductive and won't corrode (NASA wraps many of their satellite probes in gold-coated blankets to protect them) and polycarbonate filters have a smooth focal plane for keeping everything in view under a microscope; gold-sputtered polycarbonate filters bring these two attributes together into an ideal platform for visualizing innumerable tiny objects with the SEM's powerful eyes.
A key factor in using SEM is mounting the object to be visualized in such a way that electrons emitted from the SEM microscope can accurately depict the size, shape, and depth of the object, without the electrons building up into a large blurry image of static electricity. Electron microscopy works because electrons have a much shorter wavelength than visible light, and can show the most minute details such as single chromosomes, dangerous asbestos fibers in the workplace, or the delicate deposits of pollen on a flower's stamen.
Gold sputtered polycarbonate filters (PCTG) are made by heating a small piece of gold wire (called the target) above the membrane in a vacuum chamber. Gold atoms fly off the hot wire and land on the polycarbonate membrane below, depositing in a smooth ultrathin layer only 20-40 nanometers in thickness; by comparison, a human hair is about 100,000 nanometers thick. The finished coated filter provides the ideal surface in which to collect very tiny objects and hold them under the narrow beam of focused electrons from the SEM.
These new filters are ideal tools for environmental monitoring, capturing and visualizing the smallest particles, and surveying the workplace for dangerous airborne particles like asbestos. These filters will now be offered alongside Sterlitech's comprehensive line of membrane filters for the industrial and R&D communities. Our PCTG filters will be first offered in 0.4 and 0.8 micron pore sizes, and in 13, 25, and 47mm diameter discs (custom sizes/shapes may also be available). To learn more about how these filters can help your research in the finest of details, talk to one of our technical specialists at info@sterlitech.com.
Contact:
Sterlitech Corp.
22027 70th Ave. S.
Kent, WA 98032-1911
Phone: 253-437-0844
Url: http://www.sterlitech.com
Contactemail: sales@sterlitech.com
More from Software