Gold Plating targets low emissivity optics.
Press Release Summary: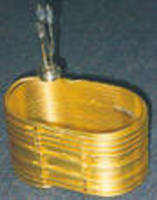 Intended for products that rely on consistently low emissivity to control thermal load, Laser Gold Plating is effective on difficult metal substrates such as titanium and molybdenum, as well as plastics for EMI shielding or solder ability engineering. Sample products suitable for laser gold plating include thermal shields, beryllium hogouts, radiometers, and stainless steel coil.
---
Original Press Release:

Gold Plating for Low Emissivity Optics



Epner Technology is a high-tech engineering and specification plating company. It's Laser Gold infrared reflective coating is world renowned and has been the NIST standard for some 20 years. Plating difficult metal substrates such as molybdenum, titanium and beryllium, and the plating of the engineering plastics such as Ultem, Teflon Torlon and Ryton are a specialty of this hundred-year-old plating specialist. Announcing the expansion of gold plating & coating capabilities to accommodate low emissivity optics.

Epner's laser gold plating is now introduced to products that rely on the consistently low emissivity to control thermal load. Some sample products that can take advantage of this gold plating are thermal shields beryllium hogouts, radiometer, or a stainless steel coil. Epner finishes can plate on any difficult metal substrate to include titanium, molybdenum other exotic metal including plating on plastics for EMI shielding or solder ability engineering. Imaging optics & non imaging reflectors join Epner's low emissivity optics laser gold plating capabilities. Epner's plating "Know How" services include areospace, electronic, semiconductor, medical and all IR (Infrared) optical markets.

Of course, the more typical substrates such as aluminum, stainless steel and brass are also plated to the Gold plating specifications, MIL-G-45204, ASTM-B-488, AMS 2224 & 2425. Besides gold, Epner specializes in deposits of electroless nickel, electro- deposited nickel, copper, silver, tin, tin lead, rhodium, and platinum. All are plated to the applicable MIL, ASTM, or Prime Contractor specifications.

Epner's turnkey manufacturing services provides both the fabrication and plating, offering one-stop shopping to their primary markets consisting of aerospace and defense, infrared optics, computer, automotive, electronics as well as emerging high-tech industrial firms. This is a plating company that actually does what the drawing calls out.

Call David Epner today for Engineering support and Technical assistance for all your coating or plating application requirements. Visit our website at www.epner.com or call toll free 1-800-823-7637 for the most knowledgeable advice in the metals finishing industry.

More from Electronic Components & Devices