Gold Plated Bellows enable high frequency interconnection.
Press Release Summary: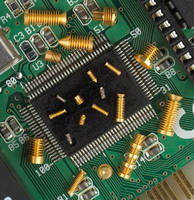 Offering alternative to spring loaded type test pins for high frequency test applications, Gold Plated Bellows Contacts are manufactured from electrodeposited nickel and gold-plated according to ASTM-B-488. They are rated for max current of 4 A and designed to provide lifetime spring and force repeatability. Typical units have low loss of .20-.45 dB at 6 GHz. Featuring one-piece construction, devices have no moving parts and can be made as small as .020 in. in diameter.
---
Original Press Release:

Gold Plated Bellows for High Frequency Interconnection



Servometer® - PMG, LLC introduces Gold Plated Bellows Contacts, an alternative to spring loaded type test pins for the next generation of high frequency test applications. Servometer® contact springs are manufactured from electrodeposited nickel and gold plated according to ASTM-B-488 to enhance their conductivity, and provide extremely low DC resistance with a minimum of insertion loss. They have been designed to provide lifetime spring and force repeatability. Servometer contacts are rated for a maximum current of 4 amps.

Typical bellows have a low loss of only .20 dB (shorter) to .45dB (longer) at 6 GHz with a total bandwidth much higher. As you will notice from the data above, length does matter with regard to test pins, so the shorter the part the better.

Mechanically, the advantages of Servometer "bellows" over the spring loaded type test pins are:

o One piece construction and are a natural spring, therefore; have no moving parts to bind or cause extra unwanted resistance or impedance issues.

o Can typically be made as small as .020 inch (0.5 mm) in diameter. This becomes more critical as PCB densities increase and test pins are located closer and closer to each other.

o If required, the bellows could be coated with noise reduction materials to reduce crosstalk between test pins in close proximity, with little or no loss of mechanical capabilities

Because Servometer® bellows are made by Electrodeposition, the bellows can be made out of different materials. Thus, the conductivity of bellows at high frequencies from the Giga-Hertz range and up is superior to similar sized spring loaded test pins. Bellows can be made with Nickel, Copper, Gold or Silver for maximum performance. Servometer specializes in custom designed bellows. Servometer® bellows are ROHS compliant.

Contact Servometer for additional specifications and cost information at:

Servometer® - PMG, LLC

501 Little Falls Road,

Cedar Grove, NJ 07009

Phone: 973-785-4630

Email: info@servometer.com

Web: www.servometer.com

More from Chemicals & Gases