Going Green – But Under Duress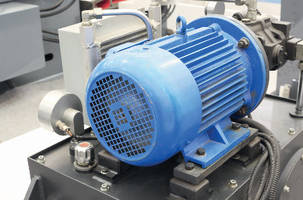 Despite the success of the COP21 meeting in Paris, the majority of industry is yet to be convinced by the benefits of acting sustainably by switching to high efficiency motors, explains Sönke Petersen, Business Engineer at SKF Group.
The COP21 meeting, held in Paris end of 2015 , showed that politicians of all nationalities can come to agreement on important issues. They can be congratulated for their diplomatic skills – though much of the hard, practical work of implementing environmental targets will be down to industry.
Rob Jenkinson, SKF's Director of Corporate Sustainability, says that industry will need to "roll up its sleeves and plot a way forward" to put these commitments into practice. This can be done by investing in lower-carbon technologies right now, rather than waiting for the relevant legislation.
While COP21 has fired up the crowd - and led to a real change in attitude towards sustainability - there is still an overarching sense of pragmatism towards issues such as sustainability and energy efficiency. Many companies still use the lowest-rated motor that they can get away with and will only switch to higher efficiency (and more expensive) motors if forced to by legislation. Many companies adhere to the minimum agreed standard - but go no further.
They argue that going any further than the letter of the law is simply too costly. Many can see no advantage in doing so - and sustainability plays no part in their thinking. Of course, if sustainability is beneficial to the bottom line - such as by lowering energy bills - then it's worthwhile. Otherwise, it's an expensive luxury, the argument goes.
That said, these are tough times for industry. If you're finding it hard to turn a profit, it's not easy to invest in higher efficiency motors: you may go bust before you can reap the benefits.
Inevitably, new legislation will push standards higher. Those companies that only ever do the legal minimum will find it tough to compete against those that already see – and embrace – the benefits of sustainable behaviour.
TCO approach
It's well known that around 95% of the cost to own and run a motor is the energy it uses over its lifetime. However, relatively few companies apply a total cost of ownership (TCO) approach. Until more companies take this approach , high efficiency motors are unlikely to be used 'out of regulation'.
And still, there are a number of companies – across the entire value chain – that understand the benefits of taking a proactive approach to sustainability: component suppliers like SKF, whose BeyondZero portfolio includes everything from bearings and sensors to lubricants and seals; leading motor manufacturers, whose products already adhere to the high IE4 efficiency rating; system integrators such as some compressor manufacturers, which incorporate cutting-edge energy efficient technology into their products; and, ultimately, visionary end users that recognise the importance of energy-efficient systems.
Relatively small changes can make a huge difference. For example, SKF offers low friction bearings that can cut bearing friction losses by at least 30%. Designing them into products can boost energy efficiency. In several cases motor manufacturer did just that. The bearings are often used to 'tip the balance' – being one of several design changes that help move a motor up into the next efficiency band.
Chasing ratings
Standard AC induction motors account for around 80% of all industrial applications. Today the best ones work at the IE3 rating – which is mandatory in North America and Europe – but they have almost reached their efficiency limit. As the legislated efficiency of motors is only going to keep rising higher efficient motor technologies such as reluctance or permanent magnet motors, will continue to increase their share of the market.
But that's not all that industry can do to contribute. Even higher energy saving potential often lies within the driveline system. In the right application, a motor run with a variable speed drive (VSD) does save significantly more energy than using a higher efficient motor alone. To further grow this solution in a conservative market an agreed efficiency rating and harmonised test programme for this subsytem is needed, that will allow governments to legislate to a recognised 'benchmark'. As of now, there is no specification to describe this.
This 'motor plus VSD' solution already has a precedent: in Europe, a VSD can be used to drive an IE2 motor instead of a line driven mandatory IE3 motor . This approach will - where it makes sense - be preferred to the alternative – replacing the AC induction motor stock with higher efficient motors, alone.
And still end users are reluctant to replace their failed motors with higher initial cost alternatives. And when they do: switching to a higher efficient motor is not always straightforward – with different electrical and mechanical properties a simple 'drop in replacement' might be impossible. Nevertheless, looking at the TCO usually makes the change worthwhile.
If we extrapolate from past experience, it's possible that we'll see a minimum IE4 standard by 2020. If that happens, motor users really will have to embrace change – and not just pay lip service to it. Rob Jenkinson actually warns of the dangers facing companies that claim to be sustainable but are not. They will, he says, end up paying more in the long run, as they miss out on the lower energy bills that come with greater efficiency, for example.
With ever-tougher legislation likely to be introduced more and more quickly in the wake of COP21, it's time for those lagging companies to wake up.
Aktiebolaget SKF (publ)
SKF is a leading global supplier of bearings, seals, mechatronics, lubrication systems, and services which include technical support, maintenance and reliability services, engineering consulting and training. SKF is represented in more than 130 countries and has around 17,000 distributor locations worldwide. Annual sales in 2015 were SEK 75 997 million and the number of employees was 46 635. www.skf.com
For further information, please contact:
Press Relations:
Nia Kihlström,
+46 31-337 2897;
+46 706 67 28 97;
More from Sensors, Monitors & Transducers