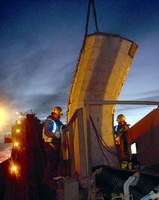 ASGCO Manufacturing, Inc., of Allentown, PA, a leading manufacturer of conveyor components and systems, now offers Flo-Control(TM) transfer point design, fabrication and installation. This revolutionary way to handle granular and particulate material handling problems, utilizes ASGCO's 3-DEM chute analysis simulation program (Discrete Element Methods) to focus on solving spillage and dust control in load zone transfer points.

After analyzing the flow of the material ASGCO incorporates a "Hood" deflector as the material leaves the discharge pulley. This "Hood" deflector with adjustment control allows for fine-tuning of the material stream to direct the material for the optimum flow. The "Hood" enclosure is lined with impact resistant ceramic liners that can be easily changed as they wear. ASGCO's "Hood" significantly helps in minimizing dust creation and material separation as it enters and flows down the chute.

On the receiving end or bottom end of the conveyor, ASGCO utilizes a "Spoon" design to ensure uniform direction of the material without impact to the chute or the receiving conveyor belt. This stainless steel ceramic lined "Spoon" bottom chute ensures that the material is "soft-loaded" at approximately the same speed as the receiving conveyor. It is also properly center loaded on the conveyor, as well as designed to eliminate any flow restrictions that would cause the potential for buildup.

The objectives and benefits of using this type of design program are:

Increase Production Capabilities - by helping to eliminate spillage, chute plugging, conveyor belt wear, dust control and noise.

Optimize Life on Conveyor Belt and Components - by minimizing impact and top cover wear by using a soft or curved chute loading design.

Minimize Material Spillage - in the design by center loading the material, load the material at a uniform rate and optimize the material flow in direction of travel after the belt is fully troughed.

Reduce the Need for Dust Control and Suppression - by minimizing the dust through loading the material at a uniform rate through a curved soft loading design, maintaining effective skirting, internal wear liners and dust curtains staggered throughout the loading area provides the goal of a "dust-free" environment.

ASGCO recognizes that all transfer points are different and provides a custom, single source approach to solving almost any bulk material handling problem and is committed to providing dust-free "Complete Conveyor Solutions". Combined with our conveyor and material handling knowledge, engineering capabilities and complete turn-key installation services, we are able to make transfer point problems a thing of the past.

More from Software