GN800 Thermoformer comes with in-mold-cut capability.
Press Release Summary: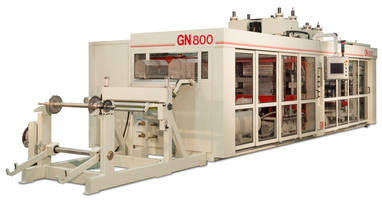 GN800 Thermoformer features common-edge tooling technology that forms series of square or rectangular trays. The unit comes with auto-grease, heavy-duty bearings and solar heaters and can form 5-in above and below the sheet line. The thermoformer increases finished part output material (per pound).
---
Original Press Release:
GN Thermoforming Equipment to Demonstrate New GN800 High-Speed Form/Cut/Stack Thermoformer at NPE2018
GN Thermoforming Equipment, a leading manufacturer of servo-driven, roll-fed thermoforming machines for the production of plastic packaging, will showcase its new GN800 Thermoformer for the first time in North America at the upcoming NPE2018 May 7-11 at the Orlando County Convention Center in Orlando, Fla. (Booth #West 1283).
Following a highly successful launch at K2016 in Dusseldorf, GN will highlight the unique capabilities of the GN800 Thermoformer at the largest plastics trade show event in the U.S.
The GN800 offers many standard features to ensure manufacturers' needs are met in today's changing marketplace. These include such benefits as forming capability of 5-in above and below the sheet line, in-mold-cut capability, auto-grease, heavy-duty bearings in the toggle system, and high-efficiency SOLAR heaters.
Among the top priorities of GN's customer-focused approach are improving productivity and ensuring that customers produce the most finished parts per pound of sheet. Over the years, GN has perfected common-edge-cut tooling technology for their contact-heat series of thermoformers. Common-edge tooling offers the ability to form a series of square or rectangular trays in a row or multiple rows while eliminating all web between the edges of the products.
Among their sustainability goals, Consumer Packaged Goods (CPG) companies are looking to their suppliers to reduce packaging weight. The GN800 is designed to work with minimal thicknesses of plastic materials and in combination with the common-edge system, it significantly increases finished part output per pound (kilo) of material.
At NPE2018, the company will demonstrate a common-edge-cut tool that was developed for the GN800 thermoformer in collaboration with Gravolab, a toolmaker from Romania. GN will run a meat tray in PET/PE laminate with a 12-cavity mold while maintaining a reduced scrap rate of 18%, said Jerome Romkey, GN's Business Development Manager
To see a video or obtain a detailed brochure of the GN800, contact the company at gn@gncanada.com or visit www.gncanada.com.
About GN Thermoforming Equipment
GN Thermoforming Equipment, based in Chester, Nova Scotia, Canada, is a leading manufacturer of roll-fed thermoformers for the production of high-quality plastic packaging. The company's operation also includes a Technical Service and Sales Center in Jihlava, Czech Republic. GN has exported its equipment to 70 countries over the past 35 years. More information on GN Thermoforming Equipment is available at www.gncanada.com.
Related