GN Wins Multiple Orders for New GN800 Thermoformer Following Highly Successful NPE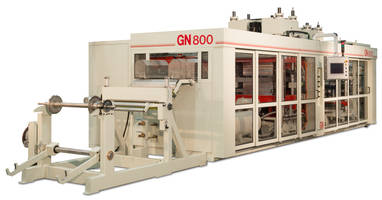 CHESTER, NOVA SCOTIA, August 21, 2018 – GN Thermoforming Equipment, a leading manufacturer of servo-driven, roll-fed thermoforming machines for the production of plastic packaging, has received multiple orders from U.S. and Canadian processors for its new GN800 Thermoformer. The company has enjoyed strong sales for its new thermoformer following a highly successful NPE in May which attracted many high-value attendees who were in the buying mood, according to Jerome Romkey, GN's Vice President of Sales and Foreign Operations.
"Overall, traffic was down at the booth but we were pleased to see that the quality of attendees was superior to previous shows," said Romkey. "It was a great show because we had a targeted group of visitors – they were at NPE for a reason and interested in buying."
GN received orders for six units and expects further increased business activity over the next several months in the U.S, Mexico, and the Caribbean, said Romkey. He noted that processors were impressed with the GN800's quality, robustness, and key features which provide faster cycles and greater efficiencies. The GN800 is currently targeted for food, medical, and industrial packaging.
The GN800 offers many standard features including forming capability of 5-in above and below the sheet line, in-mold-cut capability, auto-grease, heavy-duty bearings in the toggle system, and high-efficiency SOLAR heaters. Among the top priorities of GN's customer-focused approach are improving productivity and ensuring that customers produce the most finished parts per pound of sheet. Over the years, GN has perfected the common-edge-cut tooling technology for their contact- and radiant-heat series of thermoformers. Common-edge tooling offers the ability to form a series of square or rectangular trays in a row or multiple rows while eliminating all web between the edges of the products.
Among their sustainability goals, Consumer Packaged Goods (CPG) companies are looking to their suppliers to reduce packaging weight. The GN800 is designed to work with minimal thicknesses of plastic materials and in combination with the common-edge system, it significantly increases finished part output per pound (kilo) of material.
The GN800 has a forming area of 830 mm x 570 mm (31.5-in x 22.4-in). The cutting force of the forming and cutting stations is 75 tons. The GN800 also has additional space between the forming and cutting stations, providing extra cooling time when running heavier gauge materials or PP.
The GN800 features a standard oven that is four times the index length of the forming area. The unit also features independent top and bottom servo-plug drives for better material distribution. The GN800 handles sheet widths up to 880 mm (34.6-in). The machine can run sheet thicknesses ranging from 0.25 mm (0.010-in) to 1.5 mm (0.060-in). The unit comes fully equipped and handles all thermoformable grades of PET, OPS, HIPS, PLA, PP, and PVC.
To see a video or obtain a detailed brochure of the GN800, contact the company at gn@gncanada.com or visit www.gncanada.com.
About GN Thermoforming Equipment
GN Thermoforming Equipment, based in Chester, Nova Scotia, Canada, is a leading manufacturer of roll-fed thermoformers for the production of high-quality plastic packaging. The company's operation also includes a Technical Service and Sales Center in Jihlava, Czech Republic. GN has exported its equipment to 70 countries over the past 35 years. More information on GN Thermoforming Equipment is available at www.gncanada.com.
PRESS CONTACT: 
Joseph Grande
J. Grande communications Inc.
413.684.2463
joe@jgrandecommunications.com
More from Fluid & Gas Flow Equipment