GN 214.2 Metric Size Rapid Release Pins are RoHS compliant.
Press Release Summary: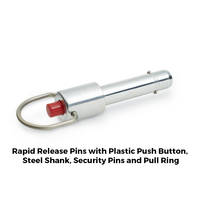 GN 214.2 Metric Size Rapid Release Pins are made of steel and zinc plated and come with blue passivated finish. Units offer heat resistance up to 80 °C and feature plastic push button, steel shank, locating and securing pins. Products are suitable for quick assembly, connecting and locking of jig and fixture systems. Pins are integrated with swiveling pull ring.
---
Original Press Release:
JW Winco Introduces Metric Size, Rapid Release Pins Steel Shank and Securing Pins, Plastic Push Button and Lifting Ring
JW Winco, Inc., A Ganter Company, a leading supplier of standard industrial machine components, announced it now offers GN 214.2 Metric Size, Rapid Release Pins with Plastic Push Button, Steel Shank, Securing Pins, and Pull Ring.
The RoHS compliant rapid release pins are used for quick assembly, connecting and locking of various jig and fixture systems. This version with the swiveling pull ring is ideal for use in confined spaces.
A typical application is locating pins that must be removed and re-placed frequently. Pressing the button can retract the two securing pins; when it is released, the pins will once again return to the secure position. The rectangular shape of the stainless steel securing pins creates a linear contact area that increases axial shear strength.
The release pin shaft is made from steel and zinc plated, with a blue passivated finish, securing pins and spring are both stainless steel, push button and slide are made of Plastic, heat resistant to 176 degrees F (80 degrees C).
JW Winco offers an extensive selection of inch and metric size adjustable levers, cabinet U-handles, plastic and steel hinges and locking mechanisms, revolving and retractable handles, hand wheels, hand cranks, tube connection and conveyor components, inch and metric construction tubing, shock absorption mounts, leveling mounts, hand knobs, spring, ball and indexing plungers, jig, fixture and fastening components, retaining magnet assemblies, toggle clamps, metric casters and wheels, universal joints, oil sight glasses, and metric tools for the industrial and commercial equipment industries. JW Winco's new website, with improved 3D CAD and online buying, is viewable at www.jwwinco.com.
JW Winco, which is ISO 9001:2008 certified, is located in New Berlin, Wisconsin, with sales locations in Canada and Mexico. For more information, contact JW Winco at 800-877-8351, by fax at 800-472-0670, on the Web at www.jwwinco.com, and via e-mail at [email protected].