Glossy Ink is suited for pad and screen printing on silicone.
Press Release Summary: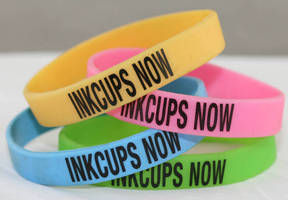 Used for pad printing and screen printing, SI Series ink adheres to silicone products such as wristbands, iPod and iPad covers, oven mitts, swimming caps, flexible computer keyboards, and remote controls. Glossy ink exhibits flexibility and abrasion resistance. Curing takes 2-6 min at 400°F or 10 min at 260°F.
---
Original Press Release:
SAPPHIRE SI Silicone Ink - Pad and Screen Printing Ink for Silicone Items from Inkcups Now Corp.
Ink for pad printing and screen printing onto silicone items such as wristbands, iPod covers Danvers, MA -- Expanding the Sapphire ink line, Inkcups Now Corporation has introduced the unique SI Series ink for pad printing or screen printing: the SI series sticks to silicone products such as wristbands, iPod and iPad covers, oven mitts, swimming caps, flexible computer keyboards, remote controls and any other popular promotional items made of silicone. The SI Silicone Ink is highly glossy and has great flexibility and abrasion resistance. Curing takes 2-6 minutes at 400°F, or 10 minutes at 260°F. More information on SI Silicone Ink: www.inkcups.com/inks-thinners/screen-pad-printing-ink/si-silicone-ink/Default.aspx To request ink samples please visit www.inkcups.com/contact-us/registration/Default.aspx. About Inkcups Now Corp: Inkcups Now Corp provides comprehensive solutions for the specialty printing of promotional products and label-free apparel, as well as for a wide range of industrial and automotive parts, sporting goods, electronic and medical devices. The company offers equipment, consumables and expertise in pad printing, laser plate-making, inkjet printing and screen printing. Direct sales offices are located in the USA (Massachusetts, California, Georgia, Rhode Island, Arizona, Iowa), Canada (Ontario) and Honduras; additional warehouses are located in Italy, China and Hong Kong. Technical support is offered in English and Spanish. www.inkcups.com 20 Locust St. Danvers, MA 01923 USA info@inkcups.com 1-978-646-8980 Follow us on Facebook: (www.facebook.com/Inkcups)
More from Electrical Equipment & Systems