Waterjet Cutters and Cutting Machinery
GlobalMAX® Waterjets feature three degrees of freedom.
Press Release Summary: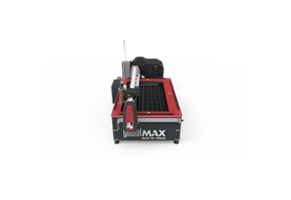 Available in 3.0 x 1.5 meter cutting bed size and in 20HP and 30HP drive pump sizes, GlobalMAX Waterjets are used for cutting materials. Offering X/Y axis cutting and 0.25 mm positioning accuracy, units are compatible with terrain follower, pneumatic drill and bulk garnet feed hopper. Waterjets delivers cutting without any heat-affected zone.
---
Original Press Release:
OMAX Introduces New Essentially Featured Waterjet Line for International Markets
GlobalMAX® waterjets offer basic, easy-to-use features with value and durability as priorities
OMAX Corporation today announced the launch of its new GlobalMAX abrasive waterjet line of reliable and practical machines capable of cutting virtually any material. This line of machine is available exclusively through OMAX distributors located outside of the United States. The GlobalMAX line takes advantage of two and a half decades of waterjet industry research and development to offer a completely integrated system of pump, table, software and advanced motion control system that is easy to use.
"The GlobalMAX product line was created to extend our waterjet engineering and manufacturing technology to more customers," says Stephen Bruner, vice president of marketing at OMAX Corporation. "The product line features our proven direct drive pump technology, easy-to-use software, and innovative drive technology. We build waterjet systems that help our customers make money in the short and long term and this product line is no exception. With GlobalMAX, OMAX aims to redefine value-oriented waterjets."
The GlobalMAX product line will be produced in Kent, Washington to ensure quality and component compatibility. All OMAX distributors are certified installers and servicers and are trained at OMAX headquarters.
The GlobalMAX will be available in a 3.0 x 1.5 meter cutting bed size. There are also two direct drive pump sizes available: 20HP and 30HP. Like all OMAX abrasive waterjets, the GlobalMAX can cut almost any material and a wide variety of material thicknesses without any heat-affected zone (HAZ). The machine performs X/Y axis cutting with three degrees of freedom and a linear positioning accuracy of 0.25mm. It is compatible with a number of accessories, including a terrain follower, a pneumatic drill and a bulk garnet feed hopper.
The new GlobalMAX line will debut at the CIMT show this April in Beijing, China and is available in markets outside of the United States. For additional information on GlobalMAX, go to global.OMAX.com.
About OMAX Corporation
Based in Kent, Washington, OMAX Corporation is the leading manufacturer of advanced abrasive waterjet systems. Owner of the OMAX, MAXIEM, and GlobalMAX brands, the company designs waterjet systems that feature intuitive software, efficient pump technology, and a wide range of accessories. The ISO 9001:2015 certified company designs, manufactures, assembles and tests components as a complete system to ensure optimum performance. The company also has the most comprehensive service and support network in the waterjet industry to keep its customers ahead of the manufacturing curve. For more information, visit OMAX.com.
MEDIA CONTACTS:
OMAX® Corporation
Stephen Bruner
Vice President of Marketing
253.872.2300
More from Adhesives & Sealants