Waterjet Cutters and Cutting Machinery
GlobalMAX® Abrasive Waterjet is embedded with Intelli-MAX software.
Press Release Summary: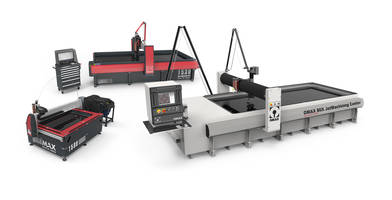 GlobalMAX® Abrasive Waterjets are offered in OMAX 80X, MAXIEM 1530 and GlobalMAX 1508 models. Suitable for reflective and nonconductive materials, unit's software supports 90 different part file formats, standard 2D DXF files and 3D shapes. OMAX 80X jetmachining center comes with a Tilt-A-Jet cutting head and 50hp EnduroMAX pump. MAXIEM 1530 features A-Jet cutting head and 40hp pump. GlobalMAX 1508 model is equipped with 20hp pump.
---
Original Press Release:
OMAX Introduces New Abrasive Waterjet Line to North American Market at FABTECH 2017
New GlobalMAX® abrasive waterjet product line has value and durability as priorities
OMAX Corporation will showcase their new GlobalMAX abrasive waterjets, a line of essentially-featured, reliable, and practical machine tools capable of cutting virtually any material, in Booth A4838 at FABTECH 2017 in Chicago this November. The GlobalMAX line takes advantage of two and a half decades of waterjet industry research and development to offer a completely integrated waterjet machining system that is easy to program and easy to operate.
"The GlobalMAX product line was created to extend our waterjet engineering and manufacturing technology base to more customers," says Stephen Bruner, vice president of marketing at OMAX. "The product line features our proven direct drive pump technology, easy-to-use software, and innovative motion control technology. We build waterjet systems that help our customers make money in the short and long term and this product line is no exception. With GlobalMAX, OMAX aims to redefine valueoriented waterjets."
Featured technology at the show
OMAX will feature a machine from each of its three abrasive waterjet product lines at the show, which takes place November 6-9 at McCormick Place, Chicago, IL. The machines and accessories running live cutting demonstrations include:
The OMAX 80X JetMachining Center with a Tilt-A-Jet cutting head, Rotary Axis and a 50hp EnduroMAX pump.
The MAXIEM 1530 with an A-Jet cutting head, Rapid Water Level Control, and 40hp pump, and
The GlobalMAX 1508 with 20hp pump.
The OMAX 80X is a premium performance waterjet machine designed for precision processing large, complex components or multiple parts with speed and precision. The Tilt-A-Jet cutting head's automated taper compensation achieves virtually zero taper cutting without slowing down cutting speed. With the water-resistant Rotary Axis head for complex 3D parts production, the OMAX machine's capabilities expand to cut in as many as 6 axes.
The MAXIEM 1530 offers machining advantages in a cost-efficient waterjet machine with a multitude of available accessories. The 1530 is ideal for fabrication shops, metal service centers, job shops as well as architectural, sign, stone and gasket shops. The A-Jet articulated cutting head cuts accurate beveled edges, angled sides and countersinks. OMAX's Rapid Water Level Control allows for quiet and clean submerged cutting.
Incredibly versatile, OMAX abrasive waterjets can cut complex parts out of nearly any material, including but not limited to metal, plastic, glass, ceramics, stone and composites. The easy-to-use Intelli-MAX software supports more than 90 different part file formats, including standard 2D DXF files and advanced 3D shapes. Unlike other material removal processes, waterjet systems can also cut extremely hard, reflective and nonconductive materials, making it a highly efficient and productive alternative to other fabrication methods.
About OMAX Corporation
Based in Kent, Washington, OMAX Corporation is the leading manufacturer of advanced abrasive waterjet systems. Owner of the OMAX, MAXIEM, and GlobalMAX brands, the company designs waterjet systems that feature intuitive software, efficient pump technology, and a wide range of accessories. The ISO 9001:2015 certified company designs, manufactures, assembles and tests components as a complete system to ensure optimum performance. The company also has the most comprehensive service and support network in the waterjet industry to keep its customers ahead of the manufacturing curve.
For additional information on OMAX's complete selection of abrasive waterjet products, please visit www.omax.com
Contact:
Stephen Bruner
OMAX® Corporation
Vice President of Marketing
253.872.2300
More from Electronic Components & Devices