Global Upgrades Tractor to Brand New Peterbilt Model 389 Super Duty Work Horse!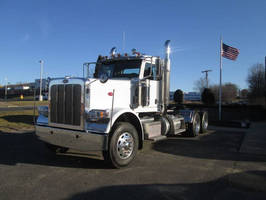 Global Machine Movers of Watertown, Connecticut continues to grow and improve as it adds a brand new Peterbilt Model 389 tractor to its fleet. The purchasing of the 389, a significant upgrade for the company, is sure to benefit both Global and our customers by allowing the company to take on more rigging jobs with absolute confidence in both its equipment and its team.



First, the quality of the Peterbilt 389 ensures improved uptime over the next 5 years. The engine, a Cummins ISX15, promises to provide longer service intervals and lower operating costs due to its industry-leading quality and superior fuel economy. Similarly, the tractors 5-year extended warranty and reputation for reliability will result in quick repairs and more time on the road, giving the company absolute confidence in its ability to get the job done in the specified time period.



The addition of the tractor, which came in the midst of many improvements made to the company, also provides a valuable new resource to the newly appointed rigging manager. The new position will oversee rigging operations and project manage all future jobs down to the quotes and invoices. The company hopes that implementing the new managerial position will make the process of shipping and receiving less stressful for its customers while improving internal efficiency.



Furthermore, Global has recently invested $20,000 in new hydraulic jacks and rigging skates with both steel and nylon rolls. The investment, seemingly prompted by the other major additions recently made to the company, only solidifies Globals commitment to improving its rigging business. All upgrades look to benefit both the company and its clientele in the immediate future and are a sure sign that Global continues to move in the right direction (no pun intended).



More from Computer Hardware & Peripherals