Glass Vacuum Filtration System comes with 2L funnel.
Press Release Summary: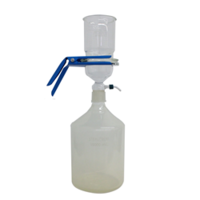 Glass Vacuum Filtration System is equipped with PTFE coated stainless steel support screen, and 10L PVC-coated vacuum receiving flask. Unit is suitable for cold filtration applications and offers ground glass joints. Product provides GL14 connections and can accommodate membrane filters of 150 mm diameter. Filtration system is used for rough debris removal and bacterial filtration.
---
Original Press Release:
Sterlitech Announces New 150 mm Glass Filter Holder System
Sterlitech Corporation today introduced its 150 mm Glass Vacuum Filtration System, the largest glass assembly in its line of glassware for liquid filtration. This new option increases filtering capacity by 67% while still preventing filter bypass. Both rough debris removal and bacterial filtration can be accomplished using this single assembly.
"Customers across several markets have indicated a significant need for greater throughput during processing", says President Mark Spatz. "With this system, our goal is to equip our customers with the means to increase their production capacity without losing efficiency".
Designed with efficiency in mind, the 150 mm Glass Assembly includes a 2L funnel, which doubles filtering capacity compared to other standard glass holders, and is equipped with a PTFE coated stainless steel support screen, and 10L PVC-coated vacuum receiving flask. The coating detail reinforces the assembly for safe use in cold filtration applications. The vacuum assembly also features ground glass joints for an improved seal and GL14 connections for easy disconnect.
This versatile system accommodates most membrane filters in a 150 mm diameter and within a range of thicknesses, broadening its use across numerous applications.
The 150 mm all-glass vacuum filter assembly can be purchased on its own, or as part of complete filtration kit, which includes a compatible vacuum pump, tubing, and pack of membranes.
About Sterlitech:
Located in Kent, Washington USA, Sterlitech was founded in 2001. Its founders have over 90 years of combined experience in membrane and microfiltration technology. The company has developed a strong global brand recognition serving a vast number of end markets in over 125 countries.
Our aim is to equip scientists, entrepreneurs, and visionaries with the means to transform ideas into reality.
More from Software