Glass-Lined Agitator Blades are suited for low-level mixing.
Press Release Summary: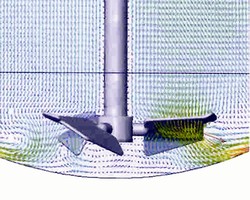 Combining features of hydrofoil and trapezoidal agitator blades, OptiFoil® maximizes pumping action required for homogenization, suspension, heat transfer, and crystallization of fragile particles. Shape of blade produces effective mixing of minimum product volumes, creates strong flow at reactor bottom, and facilitates evacuation of vessel by reducing gap between blades and bottom of reactor. Blade can mix minimum of 5 gal in 500 gal vessel, and 20 gal in 4,000 gal vessel.
---
Original Press Release:

Glass-Lined Agitator Blades for Improved Low-Level Mixing



September 27, 2007

MOUNTAINSIDE, NJ--The availability of a new glass-lined agitator blade design which combines the advantages of hydrofoil agitator blades and trapezoidal agitator blades for improved mixing in glass-lined vessels was announced by Tom Adams, director of technical sales, De Dietrich Process Systems.

The geometry of the new blade, trademarked OptiFoil®, is said to maximize the pumping action required for homogenization, suspension, heat transfer and crystallization of fragile particles. Furthermore, the shape of the blade produces effective mixing of minimum product volumes, creates strong flow at the reactor bottom, and facilitates evacuation of the vessel by reducing the gap between the blades and the bottom of the reactor, keeping particles in suspension while they exit the vessel.

According to the company, the blades can mix a minimum of 5 gallons in a 500-gallon vessel, and 20 gallons in a 4000-gallon vessel.

The pitch angle of the OptiFoil blades also results in smoother contact with the product than vertically-oriented trapezoidal blades, less shear, and is said to prevent the alteration of fragile crystals.

In addition, the blades can reportedly mix higher viscosity liquids than can hydrofoil blades or standard flat blades, and produce axial and radial flow characteristics that are suitable for virtually every process.

Engineered for use in glass-lined steel vessels, OptiFoil blades are available as an option on one-piece glass-lined mixers, or as removable blades when used in conjunction with the company's GlasLock® interchangeable glass-lined agitator blade system.

A range of sizes allows matching of the blades to the process and vessel capacity.

De Dietrich Process Systems is a global supplier of chemical and pharmaceutical processing equipment and specialized systems manufactured from borosilicate glass, glass-lined steel and various alloys, for reaction technology, mixing and heat transfer, advanced separation, high-efficiency filtration and drying, solids containment, and gas and liquid handling.

For information contact De Dietrich Process Systems, Inc., 244 Sheffield St., Mountainside, NJ 07092 USA, 1-908-317-2585, sales@ddpsinc.com, www.ddpsinc.com

More from Mechanical Components and Assemblies