Glass Fibre Weld Backing Tape® for Perfect Welds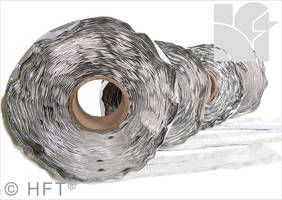 Supporting the backside or under side of weld joints will help prevent oxidation, eliminate re-welding and require much less post-weld cleaning.
Weld Backing Tape® available from Huntingdon Fusion Techniques HFT® supports weld roots, reducing sugaring and oxidation.
Georgia Gascoyne CEO Managing Director for HFT® said: "Low cost Weld Backing Tape® is very easy to use. By simply attaching the tape onto the root gap using the adhesive aluminium tape either side of the glass fibre centre, which keeps the weld joint free from weld tacks."
"After welding, the Weld Backing Tape® is removed, leaving the weld free from oxidation with no back gouging or grinding required."
Unlike ceramic fibre, Weld Backing Tape® has no true melting point so it works satisfactorily with TIG or MIG welding (GTAW or GMAW) where temperatures can reach up to 6,000ºC. This overcomes the concerns associated with ceramic fibre versions that have a melting point of 1,800ºC.
Weld Backing Tape® is available up to 600 amps and can be used for manual and automatic welding. It can help achieve higher welding speeds and dramatically reduce the amount of post weld cleaning required.
Each tape consists of a 3" (75mm) wide aluminium adhesive tape, in the centre of which is a 1" (25mm) wide band of woven glass fibre. The glass fibre matting has differing thicknesses to match the welding current in use.
Huntingdon Fusion Techniques HFT® have a Worldwide Exclusive Distributor Network.