Glass Fabrication Services offer broad range of options.
Press Release Summary: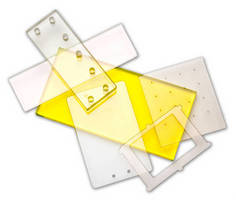 Multiple technologies and machining processes are available to support technical glass and optics shapes, surfaces, edging, and hole drilling requirements. Depending on glass substrate material, thickness, hole diameter, and edge quality requirements, options for meeting application-specific machined glass requirements include CNC machining, opposed edge drilling, or abrasive material removal or sandblasting. Each option offers array of specific capabilities and capacities.
---
Original Press Release:

Abrisa Technologies can Provide a Broad Selection of Machining Options for Glass Fabrication



Abrisa Technologies provides multiple technologies and machining processes to support technical glass and optics shapes, surfaces, edging, and hole drilling requirements. Depending upon the glass substrate material, thickness, hole diameter, and edge quality requirements, Abrisa Technologies can choose between CNC machining, opposed edge drilling, or abrasive material removal or sandblasting to meet each customer's application specific machined glass requirement.



- CNC Processing (Shapes, Notching, Slotting, Grooving & Step Surface) – can provide any custom shape with any type of ground or polished edging, including parts with holes, tapers, notches, slots, grooves, or stepped surfaces. Minimum substrate thickness is 0.3mm with a maximum thickness to 25.4mm. Minimum size is 2" x 2" with a maximum substrate size of 90" x 60".



- Drilling (Holes & Tapers) – Through holes, blind holes, step holes and countersink holes are all options. Parts with holes, slots or grooves can be tapered on both sides or seamed on the inside dimension to improve inside edge quality.



- Circle Grinding – high volumes of circular parts can be quickly ground to precise diameters. Minimum thicknesses of 0.508mm to 25.4mm maximum. Minimum diameter is 5 mm and maximum diameter is 304.8 mm.



- Grinding & Polishing (Buffing & Lapping)parts with special surface or edge polishing requirements can be ground to size, rough surface ground (lapped) or smooth surface polished (buffed).



Surface Grinding & Polishing

Edge Grinding & Polishing



- Sand blasting (surface patterns & logos)portions of the glass part or the entire part can be sandblasted for a rough or cloudy surface finish or logos and patterns can be applied to the surface of the glass. The inside or outside surfaces of tubing can be sand blasted for a rough or cloudy surface finish as well. Sand blast grits available from 80 to 400. Minimum thickness is 1.1mm and maximum is 25.4mm. Minimum size is 1" x 1" and maximum size is 80" x 44", and maximum tube length is 32".



About Abrisa Technologies: Abrisa Technologies is headquartered in Santa Paula, California and is comprised of three divisions that provide precision optical products and services. The divisions include; Abrisa Industrial Glass, Inc., Sycamore Glass Components, and ZC&R Coatings for Optics. As a market leader in optical coatings and high quality precision glass fabrication, Abrisa Technologies is dedicated to providing premier customer service and cost-effective products that fit each customer's exacting requirements. www.abrisatechnologies.com

More from Labels Tags Signage & Equipment