Glass Bottles are made of Type III soda-lime.
Press Release Summary: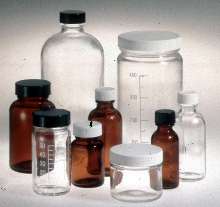 Graduated in millimeters and ounces, Valumetric(TM) Bottles are not only suited for use as sample bottles, but also for dry powders, soil samples, and specimen storage. Caps are pre-attached, eliminating need to match caps with bottles in laboratory or storeroom. Convenience Packs include Hazard Communication Labels and Tamper Evidence Strips, allowing for content identification, and visible
evidence of integrity of samples in transit or long term storage.
---
Original Press Release:

New Wheaton Glass Bottles


Miliville, New Jersey - January 1, 2004 - Wheaton Science Products, a Member of Alcan Packaging, introduces a complete NEW line of Wheaton Glass Bottles. The NEW Wheaton Glass Bottle offering consists of a complete line of versatile, multi-use sampling and storage containers, each made of Type III soda-lime.

In this line, the spotlight shines on the NEW Graduated Valumetric(TM) Bottles. The Valumetric(TM) Bottles are graduated in Milliliters and Ounces, making them ideal not only for use as sample bottles, but also for dry powders, soil samples and specimen storage.

Wheaton Glass Bottles are available in either Convenience Packs, small pack quantities for more efficient use of space in the lab or in Valu-Bulk, large pack quantities to meet high volume requirements. Caps are pre-attached to the bottle, eliminating the need to match caps with bottles in the laboratory or storeroom. A wide assortment of caps and liners are available.

Provided in every Wheaton Glass Bottle Convenience Pack, you'll find Hazard Communication Labels and Tamper Evidence Strips. These allow for proper content identification, and visible
evidence of the integrity of samples in transit or long term storage.

Alcan is a multinational, market-driven company and a global leader in aluminum recycling with 2002 revenues of US $12.5 billion. With world-class operations in primary aluminum, fabricated aluminum as well as flexible and specialty packaging, Alcan is well positioned to meet and exceed its customers' needs for innovative solutions and service. Alcan employs 54,000 people and has operating facilities in 42 countries.

For more information or for an overview of the complete NEW Wheaton Glass Bottle product range, visit the Wheaton Science Products website at: www.wheatonsci.com

Related