Glass Block provides solar protection.
Press Release Summary: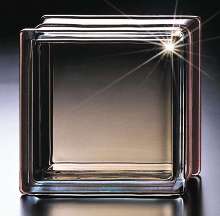 Solar Reflective Glass Block reduces solar energy gain via metal oxide coating that controls passage of sunlight. Individually coated, each product offers customized appearance, ample light transmission, and noise reduction properties. Reflective capabilities can reduce air conditioning and heating expenses, while partial vacuum provides insulating value. Available in clear or wavy patterns, product is offered in 190 x 190 x 95 mm size.
---
Original Press Release:
Pittsburgh Corning Introduces Attractive, Energy-Efficient Solar Reflective Glass Block
New Glass Block Provides Superior Solar Protection for Maximum Comfort PITTSBURGH, PA - Architects and builders now have the latest glass block technology available with the introduction of Solar Reflective Glass Block from Pittsburgh Corning Corporation. This new glass block provides improved energy efficiency, a distinctive appearance, and long-lasting performance. Pittsburgh Corning offers the new Solar Reflective Glass Block in response to calls from architects and builders for a glass block product capable of reducing solar energy gain. A metal oxide coating controls the passage of sunlight, creating a more comfortable environment for home or office. Each glass block is individually coated, which creates a customized appearance to each individual block. In addition, similar to the original Pittsburgh Corning Glass Block, Solar Reflective Glass Block continues to offer ample light transmission while reducing noise. It is a popular choice for commercial and institutional buildings and high-end residential projects. Solar Reflective Glass Block offers beauty that performs. Its reflective capabilities can reduce air conditioning and heating expenses and like traditional glass block, solar reflective block also has a partial vacuum that provides its insulating value. Solar Reflective Glass Block can reduce heat gain as compared to conventional plate glass windows, making the product ideal for projects in the South and West where the intensity of the sun and heat is greatest. Solar Reflective Glass Block offers the same durability of other Pittsburgh Corning Glass Block products. The reflective metal oxide coating is located on the inside face of the block for maximum durability. It will not breakdown from exposure to air, U.V. rays or cleaning products. In addition, each style is created with a brown edge coat to complement the look. Solar Reflective Glass Block will be available in a clear or wavy pattern for varying degrees of privacy, beginning in January 2003. Solar reflective block will be available in the 190 mm x 190 mm x 95 mm size only. Pittsburgh Corning Glass Block products are available from authorized Pittsburgh Corning distributors and retailers across the country. For more information, readers can call Pittsburgh Corning's Glass Block Resource Center at 800-624-2120 or visit www.pittsburghcorning.com. Located in suburban Pittsburgh, Pittsburgh Corning is a manufacturer of applied glass technology and systems. The company has been a major producer of glass block for commercial and residential use since 1937.
More from Paints & Coatings