Glass Beads target electronics industry.
Press Release Summary: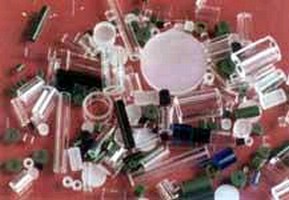 Designed to produce hermetic seals that secure against outside elements, Microscopic-sized Glass Beads are suited for variety of applications, including miniature fuse bodies, lenses for photo transistors, and glass-to-metal seals used in IC packages. Manufactured to 0.150 in. max OD, glass tubing and rod are cut to size to meet each user's specifications. Tolerances can range from +.001-.003 in. on external and internal diameters, depending on size of piece and project.
---
Original Press Release:

GBC Materials Produces Microscopic Glass Beads for the Electronics Industry



The GBC Materials division of Morgan Advanced Ceramics (MAC) offers microscopic-sized glass beads for the electronics industry. Designed to produce hermetic seals that secure against outside elements, these glass beads are ideal for a variety of applications, including miniature fuse bodies, lenses for photo transistors and glass-to-metal seals used in IC packages.

Using two innovative and unique processes, GBC Materials manufactures glass tubing and rod, which is then accurately cut to size to meet each individual user's specifications. The "Direct Draw" method provides the ability to manufacture small quantities of glass tubing and rod to precise tolerances, while creating a wide range of colored and opaque glass. The "Redraw" process produces larger quantities of continuously formed, clear glass tubing or rod.

GBC manufactures the tubing and rod to 0.150" maximum outer diameter. Depending on the size of the piece and project, tolerances can range from +.001" to .003" on external and internal diameters. Additionally, special compositions of glass can be formulated for unusual applications such as sealing to alloys or ceramics.

About Morgan Advanced Ceramics
Morgan Advanced Ceramics (MAC) manufactures products from a comprehensive range of materials. Supplying to a variety of demanding markets, MAC has established an enviable reputation for providing value-added solutions through world-class research and development, innovative design and, perhaps most important of all, application engineering.

As subsidiaries of The Morgan Crucible Company, Morgan Advanced Ceramics and Morgan Electro Ceramics form part of the Morgan Technical Ceramics Group. With manufacturing locations in North America, Europe and Asia, Morgan Technical Ceramics supplies an extensive range of products, including ceramic components, braze alloys, ceramic/metal assemblies and engineered coatings. For more information on Morgan Advanced Ceramics visit www.morganadvancedceramics.com or contact one of our sales offices below:

UK & Eire
Morgan Technical Ceramics, Bewdley Road, Stourport, Worcestershire, DY13 8QR;
Tel: +44 1299 872210; Fax: +44 1299 872218; Email: [email protected]

Mainland Europe
Morgan Technical Ceramics, Bahnhofstraße 16, D-85774 München-Unterföhring, Germany; Tel: +49 89 416098-513; Fax: +49 89 416098-421; Email: [email protected]

North America
Morgan Technical Ceramics Inc, 26 Madison Road, Fairfield, NJ 07004, USA;
Tel: 1 800 433 0638; Fax: 1 973 808 2257;
Email: [email protected]

Asia
Morgan Technical Ceramics, 158 Jiajian Road, Jiading, Shanghai 201818, People's Republic of China; Tel: +86 21 5951 0809; Fax: +86 21 5951 1241;
Email: [email protected]