GKG Asia Announces a Successful Productronica Exhibition in Germany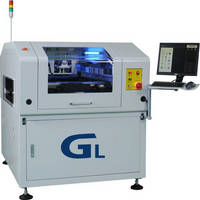 SINGAPORE – GKG Asia Pte Ltd, a leading supplier of fully automatic vision printers, announces that it participated in the recent productronica exhibition that took place November 12-15, 2013 in Munich, Germany and reports that the show was a complete success. The company experienced much interest that resulted in direct orders in its GL printer, which was on display in its partner Juki Europe booth and also made important announcements about the future of the company. A large firework display celebrated Juki and GKG's successful relationship as well as the presence of the GL printer in the booth.

The GL Series is designed for printed circuit boards (PCB) with a maximum size of 510 x 510 mm. The printer comes standard with advanced features such as Stencil Position Memory (SPM), Auto Pressure Check (APC), auto PCB thickness adjustment, a combination of top/side PCB clamping function and bottom-side PCB support pins locating guidance system. The printer provides numerous benefits to users including a core cycle time of less than 8.5 seconds, and intuitive operation for quick and easy model changeover. Several new options have been introduced to the market such as advanced glue and solder dispenser, line traceability and more.

Also during productronica, GKG Asia announced plans to expand its sales and marketing activities globally with its partners and sales channel. The company's new 50,000 m² headquarters will be completed in 2014 and will accommodate two to three times higher production volume demanded by the worldwide market. Also, more R&D staff will join the company to improve the product features and new product innovation. Within the United States and European market, the company is working closely with Juki, its sales and distribution partner, to provide integrated line solutions. For any-mix/any-volume customers, GKG printers provide the most flexible, simple models for changeover and proven 01005 printing.

Looking to the future, GKG Asia and its partners are ready to serve customers as well as the industry into 2014 and beyond. GKG is also focus in LED market by providing available solution for large format automatic printer up to 1.2m, die bonder and wire bonder. The company is available to help customers who want to replace and update their printers with the consideration of having useful features, the best price/performance product in the market and a first-class worldwide trusted service and application organization.

For more information about GKG Asia's successful productronica exhibition or to find out more about how the company plans to continue growing into the future, visit www.gkgasia.com.

About GKG Asia Pte Ltd
Headquartered in Dongguan, China (Guangdong province), GKG is the leading China brand for fully automatic vision printers supplied to the SMT industries for PCB assembly. More than 3,200 printers are installed worldwide and GKG is the fastest growing company in this sector. The company's marketing and training center, GKG ASIA PTE LTD, was incorporated in Singapore in 2009 to further enhance its global presence. Today, the company's products are represented in more than 20 countries outside China by established sales and service partners. For more information, visit www.gkgasia.com.
Contact:
Jack Wong
Business Director
+65 96788489
E-mail: jack@gkgasia.com
More from Chemicals & Gases