Gigabit Ethernet Switches meet military specifications.
Press Release Summary: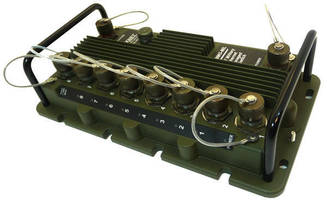 Featuring with rugged D38999 style connectors and IP67/NEMA 6 rated package, 8-port ET-8MG-MIL-1 (managed) and ET-8EG-MIL-1 (unmanaged) switches are certified to meet MIL-STD-810F and MIL-STD-461E and offer MTBF over 1,000,000 hr based on MIL-STD-217F. Each port supports auto-speed/duplex, auto-crossover and auto-polarity for true plug and play connections, and fast wire-speed switching with automatic intelligent routing prevents collisions and delays.
---
Original Press Release:

Sixnet Expands Military Switch Line



New 8-Port All-Gigabit Ethernet Managed or Unmanaged Military Switch

Sixnet introduces its latest waterproof 8-port all-Gigabit Ethernet switch with rugged D38999 style connectors. As a COTS product, the ET-8MG-MIL-1 (managed) and ET-8EG-MIL-1 (unmanaged) are designed and certified to exceed military standards because failure is not an option. These switches are ideal for all military applications whether on land, air or sea.

"Having had experience with the Sixnet switch on the Stryker (family of vehicles), we knew Sixnet could deliver an all-Gigabit version to meet our project needs. This model fits even better compared to the first Sixnet switch because it comes with D38999 connectors and is certified to meet MIL-STD-810F and MIL-STD-461E", commented a Systems Engineer at DCS Corporation who is currently designing C4 (Command, Control, Communications and Computer Systems) insertion kits for US Army Ground Combat armored vehicles.

These military switches have an IP67/NEMA 6 rated package which totally protects against dust, water, oil, debris and other environmental hazards found in harsh situations. The MIL-DTL-38999 Series III connectors are the most common in military applications and are proven to protect against vibration, shock, corrosion, water, etc. With over 4,000 switches deployed around the world for use in armored vehicles, Sixnet has demonstrated the reliability needed in tough combat situations" said Scott Killian, Sixnet's Director - Connectivity. "Many current users have been asking for a water-tight 8-port all-Gigabit Ethernet switch and over 30 units currently on field trials have passed all the testing with the Army".

Real-time Ethernet performance comes standard with these switches. Each port supports auto-speed/duplex, auto-crossover and auto-polarity for true Plug and Play connections. Fast wire-speed switching with automatic intelligent routing prevents collisions and delays. The managed models support advanced features such as MSTP, RSTP, SNMP, QoS/CoS, IGMP, VLAN, security, etc.

These military switches are built to perform under extreme conditions. They offer a wide operating temperature range and are ultra-reliable with an MTBF over 1,000,000 hours based on MIL-STD-217F. With a MIL-STD-1275 power supply, the unit is capable of running off a vehicle's power without the use of additional power conditioning equipment.

About Sixnet:

Founded in 1976, Sixnet is a privately held company, a market-driven leader enabling innovative machine-to-machine communications. In 2007 Sixnet acquired BlueTree Wireless Data Inc., a leader in wireless modems and software solutions for commercial and industrial applications.

Sixnet leverages its unique ability to provide integrated cellular, automation and connectivity solutions to serve its customers while expanding its global reach. Sixnet is driven to expand the boundaries of open connectivity, industrial Ethernet, innovative machine-to-machine communications in industrial automation, cellular data connectivity and private label OEM solutions. The name Sixnet is synonymous with quality and reliability around the world. Sixnet has partnered with Riverside Partners LLC and American Capital Ltd.

For additional information about the new Military Switches or any of Sixnet's Industrial Ethernet products, contact Sixnet at 1.518.877.5173, e-mail mailto:sales@sixnet.com, or visit Sixnet online at www.sixnet.com.

Product graphics and additional information available at:
http://sixnet.com/product/8-port-military-gigabit-managed-or-unmanag
ed-switch-174.cfm

More from Agricultural & Farming Products