Gigabit Ethernet Switch delivers scalable ruggedness.
Press Release Summary: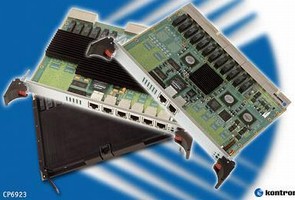 Designed for high-end communication solutions, CP6923 PICMG 2.16-compliant 6U CompactPCI managed Ethernet switch comes in 3 rugged levels: R1, R2, and R3. R1 is designed for standard application requirements in air-cooled environments; R2, for higher shock and vibration environments; and R3 is fully conduction cooled. Each offers 24 link ports and dual 10 GbE XFP uplink connections, but only R2 and R3 versions are available with extended temperature range from -40 to +85°C.
---
Original Press Release:

Kontron CP6923: 6U CompactPCI GBit Ethernet Switch Now in Three Rugged Levels



Scalable ruggedness for every environment

Eching, Germany, February 18, 2008: Kontron's proven 6U CompactPCI Gbit Ethernet switch for high-end communication solutions is now available in three rugged levels, offering users and OEMs scalable ruggedness to meet the different needs of individual applications.

The Kontron CP6923 is a PICMG 2.16 compliant 6U CompactPCI managed Ethernet switch with 24 link ports and two 10GbE XFP uplink connections. Designed for reliable and robust operation under the broadest range of conditions, the Kontron CP6923 now comes in three rugged levels defined as R1, R2 and R3. The R2 and R3 versions are available with E2 capabilities (extended temperature range from -40° C to + 85° C). The R1-version is designed for standard application requirements in air-cooled environments. The R2-version is ruggedized for higher shock and vibration environments in accordance with the EN60068-2-27/64 (similar to VITA 47's EAC6) specification. The R3-version is fully conduction cooled and meets VITA 47's ECC4 requirements.

These three versions make the Kontron CP6923 CompactPCI switch an ideal partner for the Kontron CP6001 CPU board with Intel® Core(TM) Duo / Core(TM) 2 Duo that is also available in the R1, R2 and R3 versions. OEMs benefit from a functionally validated combination of CPU board and Ethernet switch at each rugged level that provide a high degree of routing redundancy and can communicate with each other rapidly over GbE via the CPCI backplane. Together, they offer a cost-effective solution for applications that require high-end performance in a wide range of harsh environments, including those found in the military, maritime and aerospace sectors.

Built around the highly compact Broadcom BCM56500 Gigabit Ethernet switch chip, the Kontron CP6923 is the perfect choice for services such as VoIP installations for call servers, media gateways and trunking gateways (both wired and wireless networks). A boost in switching capacity allows systems to stay ahead of the rising transaction and traffic load for VoIP applications. It supports all relevant standards in carrier grade L2 and L3 switching, routing, VLANs and QoS (Diffserv) developed by Kontron. Beyond the typical telecom applications, the R2 and R3 versions are the ideal solution for communication applications in military/defense and aerospace systems.

The Kontron CP6923 CompactPCI switch comes with the latest technologies for non-blocking layer 3 switching and routing and has a 24-port GbE layer 3 switch with 19 link ports to CPCI boards and 1 link port to second fabric boards (all ports 10/100/1000Base-T). Depending on the rugged level, the board will be equipped with 4 additional ports on the front panel or on the backplane. Furthermore, 2 fibre optic 10GbE XFP uplink ports may be provided on the front panel for R1 boards. The Kontron CP6923 provides a fully managed software environment and comprehensive firmware package with seamless integration into the shelf and shelf management with IPMI V1.5. It supports hot-swap capabilities, the reset of basic fabric and reliable field upgrades for all software components. An IP router is integrated into the base fabric. It also contains dual boot images with roll-back capabilities during upgrades. The system can be managed via SNMP with standard MIBs and command line interfaces over Telnet, SSH or serial lines.

The Kontron CP6923 CompactPCI switch complies with PICMG 2.0 R3.0 specifications, PICMG 2.1 R.2.0 hot-swap specifications, PICMG 2.9 R1.0 system management, PICMG 2.16 R1.0 packet switching backplane, IPMI specification V1.5, IEEE 802.3, 2000 and IEEE 802.3ae.

The Ethernet implementation supports QoS (IEEE 802.1p) on all ports as well as VLAN including VLAN registration with GARP/GVRP (IEEE 802.1q). The routing capabilities also support DiffServ standards and routing functionality redundancy using a second switch hub board. Services include onboard event management, test and trace facilities, power on the shelf diagnostics and configuration retention after restarts. There is also support for retrieving and installing multiple configurations.

For more information, please visit www.kontron.com/CP6923

About Kontron
Kontron designs and manufactures standard-based and custom embedded and communication solutions for OEMs, systems integrators, and application providers in a variety of markets. Kontron engineering and manufacturing facilities, located throughout Europe, North America, and Asia-Pacific, work together with streamlined global sales and support services to help customers reduce their time-to-market and gain a competitive advantage. Kontron's diverse product portfolio includes: Computer-on-Modules, SBCs/blades, open-modular platforms and systems, HMIs, and custom capabilities. Kontron is a Premier member of the Intel® Embedded and Communications Alliance and was awarded 2006 Intel Member of the Year. The company is a recent three-time VDC Platinum vendor for Embedded Computer Boards. Kontron is listed on the German TecDAX stock exchange under the symbol "KBC". For more information, please visit: www.kontron.com/.

For more information:
Reader contact EMEA:
Kontron AG
Oskar-von-Miller-Strasse 1 /
85386 Eching/Munich
Germany
Tel: +49 (8165) 77-777
Fax: +49 (8165) 77-279
http://www.kontron.com
sales@kontron.com

Kontron is trademark or registered trademark of Kontron AG. All other brand or product names are trademarks or registered trademarks or copyrights by their respective owners and are recognized.

All data is for information purposes only and not guaranteed for legal purposes. Subject to change without notice. Information in this press release has been carefully checked and is believed to be accurate; however, no responsibility is assumed for inaccuracies.

More from Fluid & Gas Flow Equipment