GFCI Receptacles comply with RoHS directive.
Press Release Summary: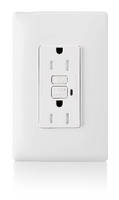 Featuring impact-resistant, thermoplastic construction, RoHS-Compliant GFCI offering includes 15 and 20 A duplex models that meet NEC® Tamper-Resistant requirements designed to protect children from electrical injuries. Units have built-in shutters that let plugs in and keep objects such as keys and paper clips out. LED indicator light lets users identify tripped condition, while SafeLock(TM) Protection shuts off power to receptacle during ground fault, miswire, or GFCI protection compromise.
---
Original Press Release:

Legrand/Pass & Seymour Introduces RoHS-Compliant GFCI Receptacles



SYRACUSE, N.Y. - Legrand/Pass & Seymour (P&S), a leading provider of electrical wiring devices and home systems, announces the availability of environmentally friendly, RoHS-Compliant GFCI receptacles.

The RoHS (Restriction of Hazardous Substances) is a European Union directive requiring manufacturers of certain types of electronic and electrical equipment sold in Europe to minimize the levels of lead, mercury, cadmium, hexavalent chromium, polybrominated biphenyls, and polybrominated diphenyl ethers in their products.

"We're well aware of the issue of electronic waste and how it affects our environment, and we make every effort to ensure our impact is well within acceptable limits," said Bill Timmons, marketing manager of residential products for Legrand/Pass & Seymour. "Many North American customers are now demanding compliance with the RoHS directive. To that end, we're working to help reduce the amount of hazardous materials entering the waste stream, while providing the products customers need to do their jobs better, faster, and more cost-effectively."

The RoHS-Compliant GFCI offering includes 15A and 20A Tamper-Resistant Duplex GFCIs. Both devices have a high-impact-resistant, thermoplastic construction for superior strength and durability. An LED Trip Indicator light makes it easy to identify a tripped condition, while P&S patented SafeLock(TM) Protection shuts off power to the receptacle if there's a ground fault, if there's a miswire, or if GFCI protection is compromised.

Meeting NEC® Tamper-Resistant requirements designed to protect children from serious electrical injuries, the built-in shutters let plugs in and keep objects such as keys and paper clips out. A back wire clamp allows for fast installation of ground wires, while two back wire holes per termination add wiring flexibility, eliminate pigtailing, and save more box space.

The GFCIs are available in ivory, white and light almond.

To learn more about the RoHS-Compliant GFCIs, contact your Legrand/Pass & Seymour representative.

Legrand/Pass & Seymour is a leading provider of electrical wiring devices and accessories in North America. For more information, call 1-800-776-4035 or visit www.legrand.us/passandseymour.

About Legrand

Legrand is the global specialist in products and systems for electrical installations and information networks where people live and work. Its comprehensive offering of solutions for use in commercial, industrial and residential markets makes it a benchmark for suppliers worldwide. Legrand has a strong presence in the North American market, with a portfolio of products that includes Cablofil, On-Q, Ortronics, Pass & Seymour, Vantage, Watt Stopper and Wiremold. The company is actively expanding its market divisions that include Electrical Wiring Systems, Home Systems, Lighting Controls and Commercial Datacom. Innovation for a steady flow of new products with high added value is a prime vector for growth. Legrand reported sales of $5.0 billion in 2009. The company is listed on Euronext and is a component stock of indexes including the SBF120. FTSE4Good, MSCI World and ASPI (ISIN code FR0010307819). www.legrand.us

More from Optics & Photonics