GF Machining Solutions to Propel Businesses Forward at AeroDef 2016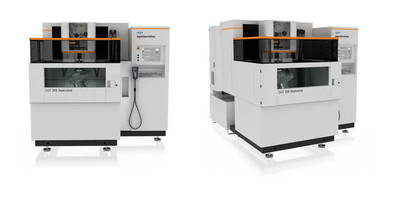 LINCOLNSHIRE, Ill. – At the AeroDef Manufacturing Conference and Exhibition, taking place Feb. 8-10 at the Long Beach Convention Center in California, GF Machining Solutions will have applications experts available to discuss new technologies and techniques for productively machining precision aircraft parts from modern materials.



Attendees to booth 313 will find GF Machining Solutions has a vast selection of technologies, products and turnkey solutions to propel their business forward, from dedicated solutions for blisk production to turbine blade repair equipment. The company will also be prepared to share information on its first mill-turn solution, the new Mikron MILL P 800 U ST, as well as its advanced CUT 200 Dedicated wire EDM for aerospace and aeronautics work.



Perfect for small-to-medium-sized shops, the compact Mikron MILL P 800 U ST machine combines milling and 4-axis simultaneous turning for highly productive single setup parts production. This advanced fusion of milling and turning capabilities also allows shops to eliminate transfer-related part runout and errors for an overall increase in finished part quality. The machine is also equipped with pallet changers for 2, 7, 9 or 12 pallets, and can be easily integrated into existing automation systems, including the company's System 3R automation solutions.



Through its built-in A/B tilt/rotary table, fast axis speeds and quick wire threading, the precision-focused CUT 200 Dedicated EDM can quickly and easily cut complex components, such as turbine blisks, from alloy workpiece materials. The machine also incorporates on-machine, in-process inspection to ensure consistent, high accuracy parts production.



To learn more about the full range of equipment and services GF Machining Solutions has available to the aerospace market, please visit www.georgfischer.com.



About GF Machining Solutions

GF Machining Solutions is the world's leading provider of machines, automation solutions and services to the tool and mold making industry and to manufacturers of precision components. The products range from electric discharge machines, high-speed and high-performance milling machines, including clamping and palletization systems, and 3D laser surface texturing machines, to services, spare parts and expendable parts, consumables and automation solutions. GF Machining Solutions is a globally acting division of the Georg Fischer Group (Switzerland) and maintains a presence on 50 sites worldwide within its own organization. Its 3,008 employees generated sales of CHF 905 million in 2014. More information can be found at www.gfms.com/us.

More from Electrical Equipment & Systems