GF Machining Solutions to Present Micro Machining Technology at LME 2018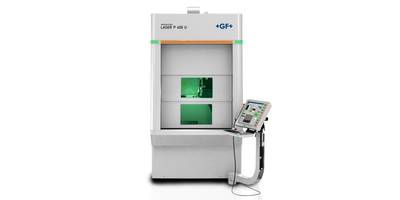 LINCOLNSHIRE, Ill., February 16, 2018 – GF Machining Solutions will showcase two high-performance laser machining solutions that provide today's shops with a competitive advantage when machining small, intricate parts at the Lasers for Manufacturing Event (LME) 2018 in Schaumburg, Illinois, March 28-29. Visitors to the company's booth #400 will experience the high-performance Laser P 400 U 5-axis machine and the ultra-fast Microlution ML-5 laser micro machining platform.
The LASER P 400 U machine includes a patented, dual laser head that incorporates both a fiber nanosecond laser and a femtosecond pulsed laser. This allows texturing, marking and engraving of a surface with a single setup, as well as extends the range of materials that can be processed. It is ideal for small components such as watches and jewelry as well as for cutting tools, small inserts and micro-machined workpieces.
With a footprint of only 48.4" x 87.8", the LASER P 400 U easily fits into existing production environments. It accommodates workpieces with a maximum diameter and height of 4.7" and is automation-ready for unattended night and weekend operations.
The microlution ML-5 ultrafast laser micro-machining platform is the first industrial-grade femtosecond laser platform capable of machining minute features with micron-level accuracy and repeatability in 24/7 manufacturing environments. ML-5's ultrafast lasers machine without creating a Heat Affected Zone (HAZ), which makes them capable of achieving tolerances that would otherwise be impossible. The absence of thermal damage also eliminates post-processing in many applications to further reduce overall part cycle times.
The ML-5 has been widely adopted for several critical applications in automotive, medical and consumer product manufacturing, including drilling automotive fuel injector nozzles, machining medical catheter tips, cutting hardened glass used in mobile device displays and machining intricate watch gears.
About GF Machining Solutions
GF Machining Solutions is the world's leading provider of machines, diverse technical solutions and services to the tool and mold making industry as well as manufacturers of precision components. Its products range from electrical discharge machines, high-speed and high-performance milling machines - including clamping and palletization systems, 3D laser surface texturing machines and spindles - to solutions for tooling and automation, services, spare parts, expendable parts and consumables. GF Machining Solutions is a globally acting Division of the Georg Fischer Group (Switzerland) and maintains a presence on 50 sites worldwide within its own organization. Its 3,102 employees generated sales of CHF 916 million in 2016. More information can be found at www.gfms.com/us.
Related