GF Machining Solutions Highlights Productive, Flexible Automated EDM at EMO 2019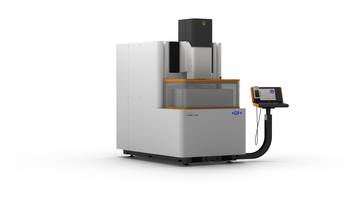 LINCOLNSHIRE, Ill., September 25, 2019 – As part of a live application demonstration at EMO Hannover 2019, GF Machining Solutions showcased the flexibility and productivity-enhancing AgieCharmilles FORM X 400 die-sinking electrical discharge machining (EDM) solution paired with the System 3R WorkPartner 1+ (WPT1+) compact part and electrode changing robot. With this high-precision automation, FORM X 400 users can further ramp up their output and reduce time to market with System 3R's user-friendly WorkShopManager (WSM), which brings all of the workshop's production technologies together in one process chain.
Like all of GF Machining Solutions' AgieCharmilles die-sinking EDM machines, the FORM X 400 features the Intelligent Speed Power Generator (ISPG), the world's most powerful die-sinking EDM generator. Users can achieve unprecedented quality and efficiency thanks to the machine series' discharge circuit, which provides spark erosion power modulation for high flexibility and maximum material removal. For example, the system optimizes micromachining processes so that fewer electrodes are needed to machine sharp internal corners.
Users of FORM X series machines benefit from advanced levels of logic, speed and safety thanks to the latest generation of the AC FORM human-machine interface (HMI) from GF Machining Solutions. The ergonomic AC FORM HMI is organized with a single menu level containing all icons in a logical, chronological order of use — and dynamic contextual help is just a click away.
The FORM X series' software ensures greater reliability, improved machining efficiency and significantly less unproductive time for the highest level of precision and machine performance. The series' TECFORM EXPERT module allows the machine to quickly and safely produce the desired results. For further process optimization, industry-specific technologies free the machine operator from the task of adjusting the generator's parameters.
With its central database, the System 3R WSM keeps production running on the FORM X 400 with standardized procedures and manages the automation process, all while growing with users demands by making it easy to add new machines in the future. Integration is the key to unlocking the full potential of any manufacturing environment, and WSM streamlines this process.
WSM allows job lists to be interrupted so an urgent part can be machined; upon completion, the cell automatically returns to the list of jobs to be executed. Additionally, WSM helps eliminate the need to have all parts and electrodes 100% ready before executing a job. Machining can start while the parts and electrodes are being measured and loaded into the robot magazine, and WSM seamlessly updates the information about the running job as parts are loaded.
Specifically for high-accuracy part processing, the FORM X 400 boasts a thermal control system that guarantees unmatched machining precision by using temperature-stable dielectric fluid to cool the machine's X, Y and Z-axis glass scales and the Z-axis ball screw. Additionally, the machine body is thermally isolated from the high-speed Z axis, and all moving parts are fully disassociated from the loading and machining area, all of which ensures that temperature variations and particularly heavy or light workpieces cannot affect machining and measuring accuracy.
To accommodate all the FORM X machines, the System 3R WPT1+ is available in nine modular models that meet the needs of a broad range of milling, grinding, EDM and laser micromachining equipment. The system can serve one or two machines in a production cell with its flexible one, two or three-magazine capacity, and its pneumatic control for gripping devices and table chucks is fully integrated.
The WPT1+ offers maximum magazine capacity in minimal floor space for unprecedented flexibility, making it easy for manufacturers to start with a single magazine and add one or two as required. Furthermore, just as it is the ideal part or electrode changing solution for use with a wide variety of machining technologies, the extremely user-friendly WPT1+ is equally efficient for both one-off and serial production thanks to generous magazine doors for loading and unloading and rapid change cycles.
About GF Machining Solutions
GF Machining Solutions is the world's leading provider of machine tools, diverse technical solutions and services to manufacturers of precision molds and tooling and of tight-tolerance, precision-machined components. The key segments we serve include the aerospace, automotive, medical, energy, information and communications technology (ICT) and electronics industries. Our extensive portfolio ranges from Electrical Discharge Machining (EDM) solutions, three- and five-axis Milling machines and Spindles, Laser texturing machines, Additive Manufacturing and machines for Laser micromachining to solutions for Tooling, Automation, Software and Digitalization—all backed by unrivaled Customer Services and support. GF Machining Solutions is a globally acting Division of the Georg Fischer Group (Switzerland) and maintains a presence at 50 locations worldwide. Its 3,394 employees generated sales of CHF 1,066 million in 2018. More information can be found at www.gfms.com.
MEDIA CONTACTS:
Heather Natal
Marketing Manager
GF Machining Solutions LLC
847.955.7177 | heather.natal@georgfischer.com
or
Chuck Bates
Vice President
dgs Marketing Engineers®
317.813.2230 | bates@dgsmarketing.com 
More from Test & Measurement