Gestural Input Devices withstand harsh environments.
Press Release Summary: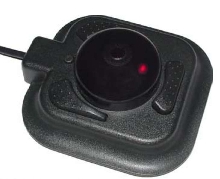 NEMA 4/IP66-compliant HAND-TRAK(TM) devices utilize Gestural Input Engine(TM), which has no moving parts and is unaffected by dust, dirt, and vibration. User moves hand or finger over surface of HAND-TRAK to communicate desired direction, speed, and distance of cursor movement. Panel top configuration can be attached with screws, double-sided tape, Velcro®, or just placed loose on existing control panel. Plug-in unit requires no software drivers.
---
Original Press Release:

ITAC Systems Introduces Panel Top Gestural Input Products


GARLAND, Texas - March 9, 2005 - ITAC Systems, Inc. today announced panel top additions to its line of NEMA 4 / IP66-compliant HAND-TRAK(TM) gestural input devices, designed for precision and reliability in harsh operating environments.

Like other HAND-TRAK models, the panel top versions utilize ITAC's Gestural Input Engine(TM) which has no moving parts and is unaffected by the dust, dirt, mud, and vibration that quickly render a trackball or mouse ineffective. It is an ideal - and easy to install - replacement for input devices that are actually designed for office use and not for harsh environments. Users with such devices can now replace an existing panel mounted or other input device without the expense of replacing or customizing existing panels. The HAND-TRAK panel top configuration can be easily attached with
screws, double-sided tape, Velcro®, or simply placed loose on an existing control panel. Its lack of moving parts also means that the HAND-TRAK can be mounted at any angle, even upside down.

The compact HAND-TRAK is more rugged than an industrial trackball and is more precise than a sealed touchpad, encoder disk, or joystick. The user simply moves a hand or finger over the surface of the HAND-TRAK to communicate the desired direction, speed, and distance of cursor movement. The HAND-TRAK will operate accurately in situations where vibration or high G-forces may cause a cursor to wander off of its placement. Available palm operated models help the user to provide steady input in an unsteady or moving environment.

Don Bynum, president of ITAC Systems, states, "HAND-TRAK is designed for extreme environments, such as steel mills and machine shops, as well as military applications, where off-the-shelf input devices are prone to fail or misread at critical moments. The new panel top version of the HAND-TRAK allows users to quickly and easily replace less-rugged cursor control devices without the expense of redesigning existing mounting panels."

Like all of ITAC's products, HAND-TRAK is easy to install - just plug it in. There are no special software drivers required since the HAND-TRAK works with the drivers that come installed with standard operating systems. Models are available for PS/2® or SunSM applications.

Priced at $250 (end-user, quantity-one pricing), HAND-TRAKs are competitive with the cost of other industrial input devices on the market today, while offering a more responsive and precise user experience. OEM pricing is available upon request.
Members of the media are invited to evaluate HAND-TRAK products by contacting Kevin Oberle at 972-494-3073, extension 104, or via e-mail at kevin@itacsystems.com.

ITAC Systems, Inc. (http://www.itacsystems.com) designs, manufactures, and markets high-reliability computer input devices for use with critical applications that operate in harsh environments.

HAND-TRAK and Gestural Input Engine are trademarks of ITAC Systems, Inc. U.S. and International Patents are pending on the Gestural Input Engine technology. Other names may be the trademarks of their respective companies.

More from Packaging Products & Equipment