Genesis M Plasma Light features forged aluminum steel pressed housing.
Press Release Summary: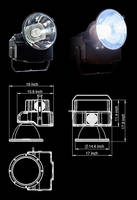 Producing white light with CRI of greater than 95 and CCT range of 4,500-6,500 K, Genesis M Plasma Light is used in horticulture and entertainment lighting industry. Made of RoHS standard substances, unit does not degrade even after 50,000+ hours of use. Product meets IP33 standards and produces minimum heat which eliminates need of additional cooling.
---
Original Press Release:
Pure Plasma Lighting Announces Near Perfect Natural Light With Industry's First 1000 Watt Plasma Light Grow Light
Award-winning new plasma lighting technology revolutionizes the horticulture industry
Pure Plasma Lighting introduces the Genesis M; the world's first 1000 watt plasma light system for the Horticulture Industry. Using this new, award winning technology that was developed in partnership with the Maltani Corporation, the Genesis M is an efficient and electrodeless light source that generates a continuous full spectrum of near perfect natural light. It delivers a white light with a CRI of greater than 95 and has a CCT range of 4,500-6,500 K. To learn more about Pure Plasma Lighting, please visit www.pureplasmalighting.com.
It has a sleek and visually appealing design. The housing is made out of high quality forged aluminum steel pressed from a mold. The base model has an IP Code of IP33 and has an optional upgrade available with a rating of IP65. The Genesis M produces a minimal amount of heat, substantially reducing the need for additional cooling. The bulb has no substances that are non-compliant with RoHS standards. The bulb never needs to be replaced and has little to no degradation even after 50,000+ hours of use. Pure Plasma Lighting has a lifetime warranty on the bulb.
The Genesis M will be available for presale beginning April 20, 2017 when it launches on Kickstarter for $1699.00. https://www.kickstarter.com/projects/930166307/the-genesis-m-a-giant-leap-in-grow-light-technolog
The Genesis M has been tested and studied by several universities and research centers all around the world. "Our overall assessment is that the lamp is about as close to natural sunlight as possible," said Dr. Steve Britz of the Baltimore Agricultural Research Center (BARC), United States Department of Agriculture. Today, the Genesis M's light engine is currently being used in the entertainment lighting industry and is currently in the process of being tested and certified by UL.
"Our light produces the highest quality light there is, which will in turn produce bigger and healthier plants. We do blue better than metal halide lamps and do red better than high pressure sodium lamps. We want to work with the top growers who are interested in new and burgeoning technologies," says Pure Plasma Lighting CEO, Young Kim. "We have the highest power and quality plasma in the market, there is no equivalent ... it does not exist."
Contact:
Charley Paek
Tel: 714.271.5975
Email: Charley@Pureplasmalighting.com
Web Site: http://www.pureplasmalighting.com
More from Electronic Components & Devices