Generator Connection Switchboard quickly restores power.
Press Release Summary: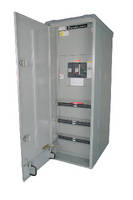 Rated up to 4,000 A at 65 k AIC, GenTower(TM) connects to mobile generator via color-coded cam-lock quick connects, feeding main power system without emergency modifications. Stand-alone system includes cable support to help maintain proper connection of cables to quick connects; clear display of operation sequence on front cover; and NEMA 3R enclosure that installs in any location accessible to mobile generator.
---
Original Press Release:

Tower of Power: GE's GenTower(TM) Restores Power Quickly with Flexibility



Plainville, CT - The one predictable thing about power outages is they occur
unpredictably, halting business indefinitely. But now, with GE's new GenTower(TM) generator connection switchboard, facility managers will immediately be able to get the power going again - and their operations back up and running.

GenTower saves labor and downtime costs because the stand-alone, permanent solution easily connects to a mobile generator via color-coded quick connects feeding the main power system without emergency modifications.

"GenTower is the logical and efficient solution for customers who want to maintain power during utility or on-site generator failures but do not want the expense or maintenance of a permanently connected on-site generator," says Mike Mahan, Senior Product Manager. "GenTower is ideal for new installation and as a retrofit to existing facilities."

Rated up to 4,000 amps at 65k AIC, GenTower connects either by cabling to the lugs on the main switchboard (if tap connections are in place), with hard bus connection to approved GE switchboards, or through a feeder breaker. The unit is also available as a selection in a new Spectra Series line-up. And the stand-alone version's NEMA 3R enclosure installs in any location accessible to a mobile generator.

Since the GenTower can be cabled into any switchboard, and even products of other
manufacturers, it offers complete flexibility as an add-on to any installed base.
Along with delivering assurance, flexibility and cost savings, GenTower offers:

o Connection via color-coded, cam-lock quick connects and traditional lugs;

o Cable support to help maintain proper connection of cables to quick connects;

o Clear display of operation sequence on front cover;

o Key interlocks with the main breaker on typical switchboard line-ups;

o UL 891, Switchboards and meets Florida Building Code Section 420.4.2.9.7.

For more information and to request publications, please visit www.geelectrical.com and search for GenTower.

About GE

GE Energy's Electrical Distribution Division provides a wide assortment of integrated equipment and systems to ensure safe and reliable power delivery. The product line includes electrical distribution and control solutions, such as circuit breakers, panel boards and general-purpose controls that are used to distribute and manage power in a variety of residential, commercial, and industrial applications.

For further information contact:

Christopher Bowler, 860-747-7123

Christopher.Bowler@ge.com

More from Communication Systems & Equipment