General Tools & Instruments iBorescope Wins 2013 Dealer Design Award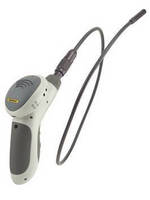 Independent Panel of Contractors Selects Device for Honor



New York, NY — Once again, General Tools Instruments (General®) is being recognized for excellence in HVACR product design as a winner in the Dealer Design Awards Program. An independent panel of contractors judged nearly 125 entries in the 10th annual contest sponsored by The Air Conditioning, Heating & Refrigeration News (The ACHR News). General's new iBorescope (DCiS1) is among a select group of products chosen for the prestigious accolade, receiving the Bronze Award in the Electronic Tools category.



"These awards give us a unique opportunity to recognize the outstanding research and development efforts that go into many of the products serving the HVACR industry, and the awards issue gives our readers an opportunity to read about innovative installation and service solutions," said Mike Murphy, Publisher of The ACHR News.



General's iBorescope (DCiS1) and other award winners were featured in the July 22, 2013 issue of The ACHR News, which is distributed nationally to more than 33,000 HVACR contractors, wholesalers and other industry professionals. See the digital edition at http://digital.bnpmedia.com/publication/?i=167853.



"We believe the iBorescope is a groundbreaking product that offers state-of-the-art technology together with ultimate convenience at a remarkably affordable price," says General's VP of Strategic Marketing Peter Harper. "At General, we strive to innovate products that make the job easier for contractors, professionals and DIYers alike. Winning a Dealer Design Award means we're achieving that goal."



The iBorescope (DCiS1) is the first and only video inspection system of its kind available in North America. Using the instrument's Wi-Fi hotspot capability and a free app, professionals and DIYers can instantly and wirelessly view and save high-definition inspection video and images on any iPhone®, iPad® or Android™ * smartphone or tablet. This is a major stride in the innovation and evolution of video inspection, eliminating the need for an integral monitor or a wired connection to an external monitor.



The iBorescope has countless HVACR and plumbing applications (not to mention uses in construction, remodeling, home inspection, automotive and other industries). It empowers users to visually inspect inaccessible or hazardous areas—behind walls; under objects; inside machinery, appliances, drains, pipes and ducts; under the hood and much more—without the need for disassembly or teardown. Regularly priced at $299, the iBorescope offers an economical way to detect and diagnose problems, and arms users with powerful evidence of their findings. A recent price reduction to $249, makes it more cost-effective than ever. 



About General Tools & Instruments

Headquartered in New York City since 1922, General Tools & Instruments remains the market leader in precision specialty hand tools. Recent product advancements and corporate acquisitions have expanded General's line to include over 1,500 precision tools and hand-held instruments. This vast array of products is widely used by contractors, professionals, technicians, DIYers and hobbyists in a broad range of industries. To learn more about General Tools & Instruments and its products, visit www.generaltools.com or call Customer Support at 1-800-697-8665.



Contacts:

For additional product information and photographs, contact Sue Minichiello, Senior PR Associate, SpaceAge Media Consultants, 617-783-2700, sue@spaceage-media.com or Peter Harper, VP Strategic Marketing, General Tools & Instruments, 212-431-6100 x267, p.harper@generaltools.com.





More from Explosives, Armaments, and Weaponry