General's Model "E" Rodrunner Handles Large Lines & Long Runs with Power & Ease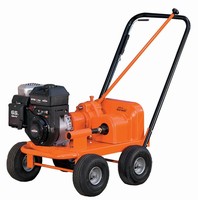 The Model "E" gasoline powered Rodrunner(TM) drain cleaner from General Pipe Cleaners blends power and maneuverability for rapid removal of clogs in large lines and long runs up to 500 feet down the line. It's capable of coupling to either sectional cables to clear up to 14" lines or 5/16" municipal rods to clear lines up to 24" in diameter.

A powerful 6.5 hp engine drives the Model "E" Rodrunner with an easily accessible throttle control on the handle. Drive speed is set at 100 to 200 rpm for municipal rods and 200 to 400 rpm for sectional cables.

The "Hot-Shift" transmission lets the operator switch from forward to reverse without the need for a clutch. A long gear shift lever is within easy reach of the operator.

The Model "E" Rodrunner also features a 3/4" lifetime lubricated drive chain and safety slip clutch to protect cables and rods against excessive torque build-up. Large 12" pneumatic wheels make it easy to move the machine to and from the job.

For details, contact Marty Silverman, VP of Marketing, mis@generalpipecleaners.com. General Pipe Cleaners, a division of General Wire Spring Co., 1101 Thompson Ave., McKees Rocks, PA 15136, USA. Ph: 800-245-6200 or 412-771-6300. Fax: 412-771-2771. Web site: www.drainbrain.com.

General Pipe Cleaners, a division of General Wire Spring Co., is a leading manufacturer of high quality drain-cleaning equipment since 1930. General serves drain-cleaning professionals and plumbing contractors -- as well as facilities managers, the rental industry and the hardware/home center market. The Toughest Tools Down The Line.

More from Agricultural & Farming Products