General's "Grab & Go" Gen-Eye POD® Video Inspection Systems Now Offer Maintenance Pros Optional Wi-Fi Capability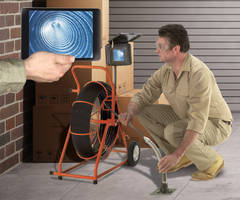 Lightweight, popular Gen-Eye POD® video inspection systems from General Pipe Cleaners now offer optional Wi-Fi capability.
The optional Wi-Fi tranmitter inside the monitor lets you send the video to your tablet or Smartphone to record the inspection. You can send the video on to your staff or supervisors for approval right from the field - no need to go back to the shop.
Always easy on both back and budget, the convenient, compact Gen-Eye POD combines camera, reel and monitor in a handy, all-in-one package. Maintenance staff just grab it and go!
The full size Gen-Eye POD sports a self-leveling camera and 200 ft. of Gel-Rod® for troubleshooting 3" to 10" drain lines. The MINI-POD® version carries 125 ft. or 175 ft. of push rod – with mini self-leveling color camera small enough to troubleshoot 2" to 4" lines. A video out connection still lets you record to an external device.
With low cost and low maintenance, the Gen-Eye POD has many uses by maintanance staffs of plants, buildings, municipalities, hospitals, schools, restaurants and other facilities.
The generous 7" LCD color monitor mounts on a rugged, flexible gooseneck that swivels for optimal viewing angles – wherever you're working. And the durable padded case protects the monitor – and your investment.
Capable of vertical or horizontal operation, Gen-Eye POD systems also feature everything you need to get started, including:
Gel-Rod push rod reinforced with Kevlar®
LED Dimmer Control
AC and DC Power Cords
2", 3"and 6" Trap Skids
512 Hz Transmitter For Precise Camera Tracking
Optional Hot Spot Digital Pipe Locator
Instructional Video available on-line
For more information, contact the Drain Brains® at General Pipe Cleaners at 800-245-6200 or 412-771-6300, or visit www.drainbrain.com/geneye.
General Pipe Cleaners, a division of General Wire Spring Co., is a leading manufacturer of high quality American-made drain cleaning equipment. In business since 1930, the third generation family-owned company is celebrating 85 years of service to drain cleaning professionals and plumbing contractors, as well as facilities managers, the rental industry and the hardware/DIY market. The Toughest Tools Down The Line.
Marty Silverman,
VP Marketing
412-771-6300
Contact This Company Download Spec Sheet
More from Agricultural & Farming Products