General Purpose Relays come with PCB or plug-in terminals.
Press Release Summary: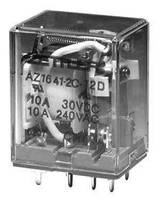 Suited for use in industrial controls and appliances, AZ1641, AZ1651, and AZ1661 general purpose relays offer coils from 6-240 Vac and 6-220 Vdc. They come with optional LED indicator and can be used in building automation, system integrators, robotics, control boards, motion controls, I/O modules, and elevator controls.
---
Original Press Release:

American Zettler Brings Quality & Savings to the Relay Industry AZ1641, AZ1651 and AZ1661 Series



Aliso Viejo, California, June 8, 2009 - American Zettler, Inc. introduced three new general purpose relays today. With very competitive pricing for the industry, AZ1641, AZ1651 and AZ1661 are perfect for use in industrial controls and appliances.

"We understand that until the economy picks up our customers need all the help they can to keep costs to a minimum," said Dave West, director of Sales. "We consider our relays to be among the most competitive in the industry with volume DPDT pricing in the low $1.00 range."

The new line of relays comes with PCB or Plug-in terminals, an optional LED indicator and coils from 6 VAC through 240 VAC and 6 VDC through 220 VDC. Applications include building automation, system integrators, robotics, control boards, motion controls, I/O modules and elevator controls. AZ1641, AZ1651 and AZ1661 series relays are available to order now.

"As with all of our products, we maintain the highest standards of quality control, giving our customers the best product on the market," said West. "These relays are no exception, making them an excellent choice for your General Purpose power relay needs."

Product Info: AZ1641, AZ1651, AZ1661 series

About American Zettler, Inc.

Headquartered in Aliso Viejo, Calif., American Zettler, Inc. produces over forty different types of relays to meet the many requirements of commercial and industrial applications. Because of their high reliability, American Zettler relays are used in a wide range of demanding applications including telecommunications systems, computer peripheral and office automation equipment, home appliances, security systems, test and measurement devices, industrial controls and many other types of electric and electronic equipment. Additionally, American Zettler works closely with a computerized distribution network with stocking facilities in virtually every major industrial area in the world.

For more information please visit www.azettler.com.

For application and product information contact:
Fred Harmon
Vice President, Sales & Marketing
American Zettler, Inc.
75 Columbia
Aliso Viejo, CA 92656
Tel: (949) 831-5000
Fax: (949) 831-8642
Web Site: www.azettler.com
E-Mail: sales@azettler.com

More from Construction Equipment and Supplies