General JM-1000 Mini-Jet™ Compact, Lightweight, Great Price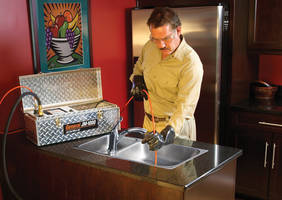 The compact, lightweight JM-1000 Mini-Jet™ from General Pipe Cleaners offers a great way to clear grease, sand and ice clogs - at a great price!
Clear small lines, clogged sinks, and laundry drains from 1-1/2" to 3" with 1500 psi of cleaning power. General's powerful little water jet hits the stoppage with high-pressure, wall-to-wall water spray - and flushes them away. Pulse helps slide the hose around tight bends and farther down lines.
Carry the Mini-Jet right to troubles. And easily store it with all your tools. At only 23 lbs, the portable package measures just 24" x 11" x 11".
General's tough little tool resists job-site abuse, too. The pump and motor assembly are safely contained in a rugged diamond plate metal case. And to protect the unit from damage, a sensor automatically stops the motor if water stops flowing though the pump.
The JM-1000 Mini-Jet comes with Super-Flex™ high pressure jet hose in either 30' or 50' lengths. The standard package also sports a 4 piece nozzle set, water supply hose, shut-off valve, and universal faucet adapter. Safety features include a 3-wire Ground Fault Circuit Interrupter. And a variety of accessories - like an optional spray wand - are available.
General's respected range of Jet-Set® gas- and electric-powered water jets - with Vibra-Pulse® to assist the nozzle around tight bends and down long lines - arm plumbing, drain cleaning and facilities maintenance staff with vital tools against grease, sediment, ice and other soft blockages.
From the light weight JM-1000 Mini-Jet and JM-1450 electric jets for indoor use, to the portable JM-2900 gas jet for more cleaning power, to the powerful Typhoon trailer jet for large lines and long runs, General offers water jets for all sorts of applications.
Pound for pound and dollar for dollar, the JM-1000 Mini-Jet is a great (and small!) investment. See it in action at www.drainbrain.com/JM1000, or contact the Drain Brains® at General at 800-245-6200 or 412-771-6300 for more information.
General Pipe Cleaners, a division of General Wire Spring Co., is a leading manufacturer of high quality American-made drain cleaning equipment. In business since 1930, the third generation family-owned company is celebrating 85 years of service to drain cleaning professionals and plumbing contractors, as well as facilities managers, the rental industry and the hardware/DIY market. The Toughest Tools Down The Line.
Marty Silverman,
VP Marketing
412-771-6300
Contact This Company Download Spec Sheet
More from Controls & Controllers