Electrical / Electronic Probes
Gemini Kelvin Contactors offer test bandwidth from DC to 17 GHz.
Press Release Summary: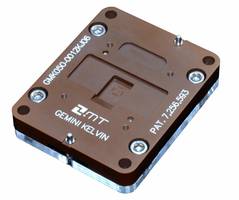 Gemini Kelvin Contactors are available with WLSCP 0.5 mm pitch. These Kelvin probes feature a life of ≥500 K insertions and are suitable for testing both low and high current devices. Units provide high resolution for test measurement of 18 bit DAC/ADC at a sampling rate of up to ≥ 100ks/S.
---
Original Press Release:
Multitest Contactors for Greatest Flexibility and Best Performance for Testing Wafer Level Chip Scale Packages
Expanding the range of Gemini Kelvin from WLCSP 0.3mm pitch to 0.5mm pitch
Multitest adding the Gemini Kelvin 050 for 0.5mm pitch contacting continues to address the expanding requirements of its customers for reliable interface solutions for testing packages with continuously shrinking dies, which are needed for smaller, lower current, and faster end-user devices. The Gemini Kelvin contactor solutions are known for being the most reliable cost effective solution for increasing OEE in test.
The Gemini Kelvin contactor is very versatile and can be configured for: single site test, strip test, and multisite WLCSP test. The Gemini Kelvin contactors offer a wide range of electrical test performance coverage with dual probe bandwidth from DC to 17 GHz @ 0.3 mm pitch. All Gemini Kelvin probes have super-sharp tips for reliable contacting with a life of ≥500K insertions. With 100% correlation of test measures between the lab and production test, time to market - high volume test is significantly reduced. Due to the ease of maintenance, long life, and high yields associated with the Gemini Kelvin, it is a great choice for reducing the cost of test and increasing throughput as measured by the number of good parts yielded.
Multitest offers a wide range of Kelvin contactors that are ideal for testing both low and high current devices. For high power output with the ability to measure both current and voltage accurately, Multitest has a full line of cantilever spring probes. For lower current BGA and QFN applications, Multitest offers the high bandwidth Gemini Kelvin contacting family.
Senior Product Manager Bert Brost says "Gemini Kelvin is true Kelvin contacting used for low resistance test measurements requirements. Along with Gemini Kelvin being the ideal solution for accurate low voltage measures, Gemini Kelvin has the dual probe bandwidth for testing high speed analog and mixed signal devices. For example, Gemini Kelvin is the right choice for high resolution test measurements of 18 bit DAC/ADC with sampling rate of up to ≥ 100k s/S. One method of testing amplifiers involves applying one or two spectrally pure input signals and measuring the power at the harmonics. Unlike other Kelvin contacting solutions, the Gemini Kelvin has the bandwidth for minimum distortion of harmonic content."
For more information about the Gemini Kelvin contactor, visit www.multitest.com/geminikelvin
About Multitest:
Multitest (headquartered in Rosenheim, Germany) is one of the world's leading manufacturers of semiconductor material handling equipment and interfaces for the testing and calibration of semiconductors and sensors. Multitest markets a broad portfolio of innovative and performance driven test handlers and contactors. Multitest has more than 30 years of experience in the semiconductor industry, providing solutions to the automotive, consumer, communication, and sensor markets. Multitest is a company of Xcerra™ Corporation, which provides capital equipment, interface products, and services to the semiconductor, industrial, and electronics manufacturing industries. Xcerra Corporation offers a comprehensive portfolio of solutions and technologies, and a global network of strategically deployed applications and support resources. Additional information can be found at www.multitest.com and www.Xcerra.com.
More from Computer Hardware & Peripherals