Gemini/KB Systems Recently Installed a New Outdoor Ingredient Handling System for Nardone Bakery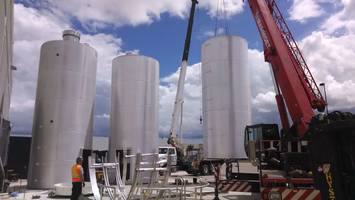 Gemini/KB Systems recently installed a new outdoor ingredient handling system for a longtime customer and friend who just opened a new production facility. The system included two outdoor 110,000 lbs. flour storage silos to store two different types of flour as well as three 5000 lbs. day bins to store three minor ingredients
Minor Ingredient system
Reduced manual handling labor costs associated with transferring pallets of ingredients from the stock area to the production area.
Eliminated cleaning costs associated with nuisance dust costs as a result of opening and dumping bags of ingredients in the production areas.
Improved batch accuracy of delivered ingredients by eliminating human error.
Ability to accurately weigh multiple ingredients in one weigh hopper prior to discharging into a mixer increases throughput and speeds up the mix cycle.
About Gemini Bakery Equipment www.geminibe.com
The Gemini Bakery Equipment Company was established in 1972 by its chief executive officer, Mark Rosenberg. The Rosenberg family has been in the bakery equipment business since 1911 with the establishment of the Quaker Bakery Equipment Company by Mr. Rosenberg's grandfather.
Gemini is the largest provider of specialty bread and roll equipment and systems in North America. Headquartered in Philadelphia, PA with three manufacturing plants in Pennsylvania as well. Gemini employs approximately 125 across all three operations.
Gemini has enjoyed long-term relationships with hundreds of specialty bakers since the "early days". Gemini's growth is just as attributable to its preferred supplier relationship with these bakers, whose own businesses have continued to grow, as it is to our continually growing customer list.
More from Cleaning Products & Equipment