Position Sensors / Detectors / Transducers
GEMCO® 958A Transducer features shock resistance of 1000Gs.
Press Release Summary: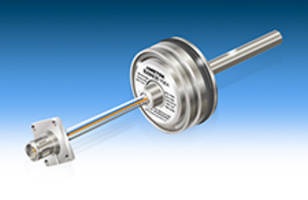 Available in span lengths from 50mm to 2540mm, GEMCO® 958A transducer is powered from 8 to 30 VDC at 1.6 watts. Offering vibration tolerance of 30Gs, product comes with built-in diagnostics capability for displaying health of unit and helps in troubleshooting. Designed with rugged, rod style for fitting into hydraulic or clevis style cylinder, transducer is suitable in heavy duty commercial vehicles, mining and mobile heavy equipment applications.
---
Original Press Release:
Rugged Linear Displacement Transducer Designed for Long Life in Demanding Mobile Hydraulic Applications
New GEMCO® 958A provides industry-leading shock resistance of 1000Gs and vibration tolerance of 30Gs
AMETEK Factory Automation (www.AmetekFactoryAutomation.com) has introduced an embedded linear displacement transducer (LDT) with industry-leading shock and vibration resistance for demanding mobile hydraulic applications. With shock resistance of 1000Gs and vibration tolerance of 30Gs, the new GEMCO® 958A transducer provides long life in extreme operating environments.
The 958A is designed for dependable, high-accuracy performance in mission-critical mobile heavy equipment applications. It offers absolute accuracy and reliability with high resolution and precision repeatability.
Applications:
Hydraulic cylinder OEMs
Heavy duty commercial vehicles
Agricultural equipment
Construction equipment
Mining equipment
Forestry harvesting
Railroad grinding
Material handling
Mechanical engineering
Transportation
Control instrumentation
The transducer uses the latest generation of AMETEK's field-proven magnetostrictive position-sensing technology to give absolute analog position, accurate to 0.04% of the programmable sensing distance. A variety of analog outputs are available to meet user needs.
The rugged, rod style LDT fits entirely inside a hydraulic or clevis style cylinder. This protects the transducer from outside conditions and allows use where there is no room for external devices.
It can be powered from 8 to 30 VDC at 1.6 watts, making it easy to fit into a variety of systems. It includes a unique built-in diagnostics capability that displays the health of the unit and helps aid in troubleshooting problems if they occur.
The 958A is easy to install and set up. Units can be ordered in span lengths from 2" (50mm) to 100" (2540mm) and come standard with either integral cable assemblies, bare leads or M12 style connectors.
AMETEK Factory Automation is a leader in continuous linear and rotary position sensing and level gauging. It is a unit of AMETEK Sensors, Test and Calibration, which is a division of AMETEK, Inc., a leading global manufacturer of electronic instruments and electric motors with annual sales of approximately US$4.0 billion.
Contact:
China
David Yu
AMETEK China
Tel +8610.8526.2111
Email: stc.china@ametek.com
www.ametekfactoryautomation.com
Southeast Asia
Erik Dwiputra
AMETEK Singapore
Tel +65 6484 2388
Email: aspl.enquiry@ametek.com
www.ametekfactoryautomation.com
Japan, Korea, Australia/New Zealand
Blake Cawley
AMETEK Factory Automation
Tel +1.248.687.2032
Email: blake.cawley@ametek.com
www.ametekfactoryautomation.com
India
Vivek K. Bandekar
AMETEK India
Tel +91 61968230
Email: vivek.bandekar@ametek.com
www.ametekfactoryautomation.com
More from Controls & Controllers