Gel-Free Cable uses super-absorbent polymer technology.
Press Release Summary: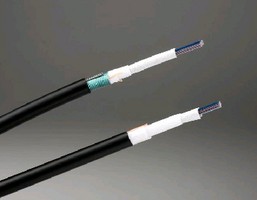 Available in fiber counts of 288, 360, and 432, SST-UltraRibbon(TM) Gel-Free Cable consists of outdoor ribbon cable, in which dry water-blocking materials replace gels previously used. Design eliminates gel-cleaning solvents from workplace and need for cable damming procedures. Cable is fully compliant to ICEA outside plant cable standard and Telcordia GR-20-CORE Issue 2 requirements. It fits in 1.25 in. ID or larger ducts and is available with armored jacket options.
---
Original Press Release:

Corning Cable Systems Expands Gel-Free Cable Portfolio with SST-UltraRibbon Gel-Free Cable



High-fiber-count ribbon cable offers reduced cable preparation time, quicker network deployment

HICKORY, N.C. - Corning Cable Systems, part of Corning Incorporated's (NYSE:GLW) Telecommunications segment and a leading supplier of ribbon cable products in North America, has added another product to its portfolio of gel-free outdoor cables.

SST-UltraRibbon(TM) Gel-Free cable is a high-fiber-count outdoor ribbon cable, in which dry water-blocking materials have completely replaced the gels previously used to provide a 100 percent gel-free cable. The cable is available in fiber counts of 288, 360 and 432.

Customers receive multiple benefits from the gel-free design, which uses a field-proven super-absorbent polymer technology. These benefits include reduced cable preparation time (more than one hour per end-to-end splice point in 432-fiber designs), quicker network deployment for capturing revenues, removal of gel-cleaning solvents from the workplace, reduced mass-fusion splicer maintenance and elimination of the need for cable damming procedures typically used for preventing gel from entering closures from cable ends.

The patented SST-UltraRibbon Gel-Free Cable design is fully compliant to the ICEA outside plant cable standard and Telcordia GR-20-CORE Issue 2 requirements. The cable has also been subjected to a battery of additional testing well beyond the requirements in industry standards to ensure the gel-free design is fit for use in the extremes of the outside plant environment. It is able to fit in 1.25-inch inner diameter or larger inner ducts. Dielectric and armored jacket options are available.

For more information on SST-UltraRibbon(TM) Gel-Free Cable, or for additional information on Corning Cable Systems products and services, contact a customer service representative at 1-800-743-2675, toll free in the United States, or (+1) 828-901-5000, international, or visit the Web site at www.corning.com/cablesystems.

About Corning Incorporated
Corning Incorporated (www.corning.com) is a diversified technology company that concentrates its efforts on high-impact growth opportunities. Corning combines its expertise in specialty glass, ceramic materials, polymers and the manipulation of the properties of light, with strong process and manufacturing capabilities to develop, engineer and commercialize significant innovative products for the telecommunications, flat panel display, environmental, semiconductor and life sciences industries.

Corning Communications Contact:
Lisa A. Burns
(607) 974-4989
burnsla@corning.com

More from Software