Gearmotors now come in smaller sizes.
Press Release Summary: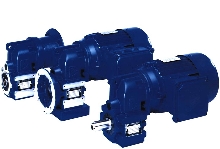 New models in Clincher(TM) line of parallel shaft-mount gearmotors and speed reducers include: SK0182NB with gear ratios from 4.24:1 to 81.0:1, output speeds to 413 rpm and torque up to 1,027 lb-in.; SK0282NB with ratio from 4.03:1 to 139.0:1, output speeds to 434 rpm and torque to 1,443 lb-in.; and SK1382NB with ratios from 16.28:1 to over 381.0:1, output speeds to 107 rpm and torque to 3,275 lb-in. All are available with solid or hollow output shaft.
---
Original Press Release:
NORD Gear announces the expansion of their Clincher(TM) parallel shaft-mount drive line to include smaller, more cost effective sizes

Waunakee, WI-NORD Gear Corporation announces the addition of three new, smaller sizes to their Clincher(TM) line of parallel shaft-mount gearmotors and speed reducers. The new sizes provide the proven performance of NORD's other Clincher products in smaller, more cost-effective packages.

The new sizes include the SK0182NB, the SK0282NB and the SK1382NB. The SK0182NB offers a gear ratio from 4.24:1 to over 81.0:1, output speeds to 413 rpm and a torque up to 1,027 lb-in. The SK0282NB offers a gear ratio from 4.03:1 to over 139.0:1, output speeds to 434 rpm and a torque up to 1,443 lb-in. The SK1382NB offers a gear ratio from 16.28:1 to over 381.0:1, output speeds to 107 rpm and a torque up to 3,275 lb-in.

The NB designation of the new models signifies that they incorporate NORD Gear's NORDBLOC(R) Gearing. This state-of-the-art design concept offers customers higher capacities, longer design life and quieter operation. The benefits are achieved through the optimization of the gear tooth geometry, the gear finishing and the gear materials, as well as through reinforced shafts and support bearings. Other benefits of the Clincher products include the elimination of couplings and belt drives, space savings packages, and reduced number of components. Additionally, they require little safeguarding.

NORD's shaftmount Clincher(TM) gear drives are available with either a solid or hollow output shaft. Hollow shaft versions are keyed hollow shaft and shrink-disc connections. Mounting flexibility is achieved through optional accessories that enable the units to be flange or rail (foot) mounted. The models in the Clincher(TM) line come standard with an integral NORD motor or NEMA C-faced adapter. However, an input shaft is available to allow for belt-, chain- or direct-coupled input as well as platform motor mounting.

The Clincher(TM) models incorporate many of the standard NORD design and construction advantages. These include:
* Unicase(TM) one piece housing - eliminates the oil leakage, oil contamination and gearset misalignment problems common to drives with bolt-on output covers or split case designs
* Quadrilip(TM) oil sealing system - protects inner seal-lip from damage and external contamination
* Sealed housing - prevents bearing damage caused by moisture and dirt contamination
* Protective finish - rather than paint NORD finishes their products with a coating of protective resin mixed with stainless steel to provide greater impact and cleaning solvent resistance

Ideal applications for these and all Clincher(TM) Parallel Gear Drives include conveyors, crane travel drives, material handling lifts, wheel drives, mixers and much more.

NORD Gear Corporation is a world-leading manufacturer of high quality drive components. NORD Gear makes its wide range of products easily available through a global network that provides all customers with prompt delivery and expert support services.

For more information about NORD Gear's NEW Clincher(TM) Series of gearmotors and speed reducers or other gear products, contact:
NORD Gear Corporation
P.O. Box 367
800 NORD Drive
Waunakee, WI 53597
(800) 314-6673 or (608) 849-7300
Fax (800) 373-6673
www.NORD.com

More from Electronic Components & Devices