Gearheads fit various information transducing devices.
Press Release Summary: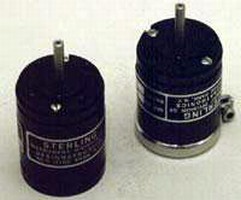 Designed to align and fit Bu-Ord size 11 devices, models S9111A-T640 (SB), T641 (AB), and T642 (ZB Series) gearheads are available in 3 degrees of anti-backlash precision with 16 different gear ratios ranging from 2:1-36:1. Input shaft is located at front of gearhead, and geartrain design utilizes passivated SS 416 gears and shafts conforming to ASTM 582 and QQ-P-35 standards. Gearheads have black anodized housing measuring 1.250 in. long with 1.062 in. dia.
---
Original Press Release:

New Series of Precision Transducer Gearheads from Sterling Instrument Feature Modular Fit with Various Information Transducing Devices



New Hyde Park, New York - Three new series of precision transducer gearheads manufactured by Sterling Instrument offers unique mounting design to assure precision alignment and compact modular fit with any Bu-Ord size 11 information transducing device. These include synchros, resolvers, encoders, differentials and RVDT's. Application areas include instrumentation, medical devices, production machinery robotics, aircraft and satellites.

These standardized gearheads, identified as models S9111A-T640, T641, T642 Series, are available in three degrees of anti-backlash precision, each with a choice of 16 different gear ratios which range from 2:1 up to 36:1. These units differ from standard gearheads in that they are designed as highly accurate devices with the high speed input shaft at the front of the gearhead. The output of the gearhead is the gear that is mounted on the shaft of the information transducing device. The patented (#2,892,357) geartrain design utilizes passivated stainless steel 416 gears and shafts which conform to ASTM 582 and QQ-P-35 standards. The standard (T640) backlash, or "SB" series, are typically used in unidirectional feedback systems. They have a maximum backlash, measured at the transshaft, of 20 arc minutes. Better anti-backlash tolerances are achieved by the "AB" series (T641) which is typically used in positioning servo systems or position data transmitting loops. This series has a maximum backlash of only 10 arc minutes. The zero backlash, or "ZB", series (additional U.S. Patent #3,396,594) boasts a backlash of less than 1 arc minute and is typically used in aircraft and satellite applications. The maximum end play, with 1 lb. gage load is .001". A choice of two mounting options are offered. Either a clamp for easy phasing of transducers or an adapter plate with machine screws for transducer devices with tapped holes in the mounting face. The black anodized housing is machined from aluminum alloy 2024-T4 in accordance with QQ-A-225/6 and Mil-A-8625 type 1, Cl. 2 specifications. The housing measures 1.250" long by 1.062" in diameter. The housing length for the adapter plate version is 1.350". Single unit prices for the "SB" series start at $210.31.

Additional Technical specifications are contained in Catalog D790, available free from Sterling Instrument, 2101 Jericho Turnpike, P.O. Box 5416, New Hyde Park, New York 11042-5416. Phone: 516-328-3300 o Fax: 516-326-8827. Web: www.sdp-si.com

Company Name: Stock Drive Products/Sterling Instrument
Address 1: 2101 Jericho Tpke.
Address 2: P.O. Box 5416
City: New Hyde Park
State: NY
Zip: 11042-5416
Country: USA
Phone: 516-328-3300
URL: http://sdp-si.com/press/new/Gearheads9_1.htm

Contact Name: Herb Arum
Organization:
Title: Marketing Manager
E-mail: cpratt@sdp-si.com

More from Controls & Controllers