Gearboxes suit speed-reducing, rotation control applications.
Press Release Summary: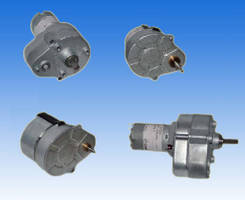 With virtually unlimited gear ratios from 10:1 to 7,000,000:1, Single Ovoid Gearbox Model 810210 and Double Ovoid Gearbox Model 810330 provide continuous torques of 0.5 Nm and 2.0 Nm, respectively. At 7,000,000:1 ratio, gearboxes achieve extremely low speed of 0.002 rotations/hr. Units interface with DC brush motors, AC synchronous motors, and stepper motors, making them suitable for cam timers, fish feeders, ice makers, rotating jewelry display cases, and oilers.
---
Original Press Release:

Crouzet Introduces Single and Double Ovoid Gearboxes Featuring Low Speed, High Durability and Wide Motor Option Selection



VISTA, Calif., - Crouzet North America, a company of Custom Sensors & Technologies, has introduced a new line of Single Ovoid and Double Ovoid Gearboxes. The new second generation gearboxes offer low speed in a wide range of gear ratios and motor options. All motor options are RoHS compliant and many meet UL and CSA requirements.

The Single Ovoid Gearbox Model 810210 and Double Ovoid Gearbox Model 810330 feature virtually unlimited gear ratios from 10:1 up to 7,000,000:1 with continuous torques of 0.5Nm (Single Model) and 2.0Nm (Double Model). At a 7,000,000:1 ratio, gearboxes achieve an extremely low speed of 0.002 rotations per hour. Metal housing provides optimum durability.

The new gearboxes interface with Crouzet's comprehensive line of highly engineered and highly tooled DC brush motors, AC synchronous motors, and stepper motors. DC Brush motors are available with 6, 12, 24 or 48 volt windings. AC synchronous motors offer single and reversible direction with winding options from 12, 24, 115 and 220 Volts at 50 Hz, 60 Hz or both. With its wide gear motor selection, Crouzet can fulfill many OEMs requirements for unique specifications such as a 24 V/60 Hz, or 7.5 or 15 degrees for stepper motors. Crouzet's Custom Adaptation Center can also customize products to meet specific application requirements, such as adding stainless steel shafts or friction clutches. Small quantities are available in short lead times.

The new gearboxes are suitable for a variety of speed-reducing, rotation control applications across a diverse range of industries. Common uses include cam timers, fish feeders, ice makers, rotating jewelry display cases, and oilers. Gearboxes can be supplied with flying leads, cables and connectors to suit individual requirements. DC motors can also be supplied with encoders and EMI filters.

"Crouzet's new gearbox offering and compatible motor options meet a diverse range of speed reducer type applications," explains Jim McNamara, Crouzet Application Engineer. "And with our highly engineered designs, they provide an excellent value."

For more information, contact Crouzet North America, 2470 Coral Street, Bldg. D, Vista, Calif., 92081-8430; Tel: (760) 597-6322; Fax (760) 597-6320; E-mail: mcnamaj@us.crouzet.com, or visit www.crouzet.com

About Crouzet North America:

Crouzet North America is an operation of Custom Sensors & Technologies (CST). Crouzet (pronounced cruise-A) started operations in the US in 1978. A global company of about $180 M, Crouzet is headquartered in France, with about 2000 workers in more than 14 countries. The Crouzet motor activity is composed of sub-fractional HP AC, DC, BLDC, and Stepper motors with global sales of $55 M, with a worldwide sales team and adaptation centers to support special OEM applications. www.crouzet.com

About Custom Sensors & Technologies:

Headquartered in Moorpark, CA - Custom Sensors & Technologies (CST) is comprised of industry-leading brands including Crouzet, Kavlico, Crydom, and former divisions of BEI Technologies - Newall and Systron Donner. CST provides sensors, controls, and actuation products for the Transportation, Industrial and Aerospace & Defense markets. www.cstsensors.com

More from Agricultural & Farming Products